Wildlife refuge ride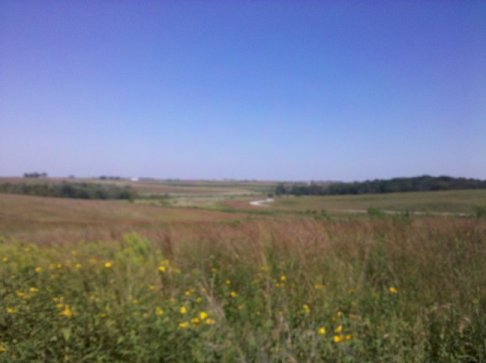 Back in late August, we took an afternoon ride with Garry, Shirley and Janet over to the Neal Smith Wildlife Refuge near Prairie City. Even though it was still summer, you could definitely tell that Fall was coming as there was a distinct difference in the "coloring" of the day: the sun was at a lower point in the sky and the corn was just beginning to brown around the edges, which gave a green-tinged-with-gold glow to the fields as the sun came through the corn. Except for the fact that it meant another summer was almost over, it was just as beautiful as the vivid greens of June.
The entrance to the Preserve is a lovely long and winding road (admit it: you're humming that song now, right?) that leads eventually to the Visitor Center, and there's an "automotive loop" you can take into the interior of the preserve. The primary purpose of the preserve is to restore a significant number of acres to natural prairie and to house some native bison.
The ride along the entrance road looked a lot different from other areas we've visited in Iowa – tall native grasses swaying in the breeze, making a delightful swishing noise instead of the usual wind-roar. This is probably one of very few places in Iowa where you can get a tiny idea of what the land might have looked like as our early settlers trundled across the native terrain.
We didn't have enough time on this particular day to take the interior loop (and besides it's gravel – we weren't prepared for that on the bikes), but we did enjoy the ride along the entrance road and spent some time in the visitor center, where we found a very nice interactive museum detailing the history of the Iowa landscape and its natural resources. After leaving the museum, we took a short walk along one of the many (paved) trails – again, not enough time to really explore, but another clear indication that the Preserve is worth a return visit.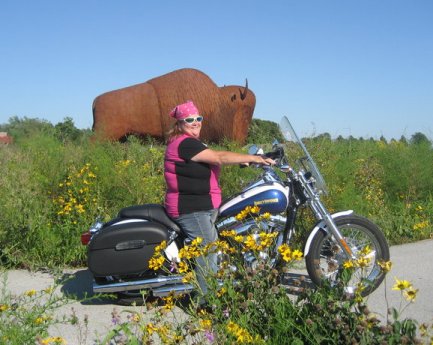 We stopped for refreshments at the local Casey's, but parked across the road at a covered picnic area that also included an eye-catching bison sculpture. Wanting a photo, I rebelled against polite society and rode my bike up onto the sidewalk and around the walking path that surrounded the statue, and Janet snapped a picture for me.
As this area is less than an hours' ride from home, I hope we can go back when we have more time to explore. I would love to be able to park the bikes, walk out into the tall grass, and listen to the breeze.