A big sigh of relief, I'm ready to ride, and now it's @#$ winter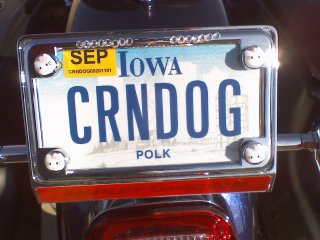 Dearest readers, it has been a hell of a year. After spending 8 months unemployed I am finally back to work and SO grateful for the opportunity! And, in talking with some of my friends and new co-workers, I've come to realize how lucky I am that my "stint" wasn't any longer than it was.
Here's the thing about being unemployed and owning a motorcycle: it's hard to enjoy yourself when you are weighted down with guilt and self-doubt, but in all reality a few more motorcycle rides were probably just what I needed to keep my spirits up. I regret not having indulged a bit more – I put a little under 2,000 miles on my bike this past season, so she's essentially still brand new.
Photo up top is the vanity plate I got for my birthday. For some reason a couple of my close friends seemed unsure of what it meant. Come on, people, it's only missing one vowel! It stands for "CORN DOG," which of course is my biker-chick nickname. My first choice for a plate actually was "KITTEN," which is the bike's nickname (why yes those ARE 'Hello Kitty' screwhead covers – why do you ask?), but a snafu at the DMV resulted in getting my second choice. I am okay with that – I really like this one!
I know that I completely neglected to tell you about two rides – one was with friends to the Neal Smith Wildlife Refuge, and the other was a shorty solo ride I took on my birthday. I guess it's a little late to tell you about them now, but I'll still share a few details in my next post.
Okay, more soon (this time for sure!) – who's ready for SPRING??