Ride to eat in Osceola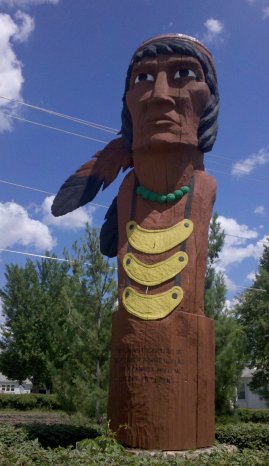 Saturday we decided to "ride to eat" down to Osceola, where not coincidentally there is also a Harley dealership I hadn't visited yet. Garry, Shirley, and Dave R. (who rides a sweet flat-black HD Crossbones) met us at our house, and we took off around 10:30 heading south down Highway 28.
At Highway 92 we jogged left a quarter-mile to county road R45 which takes us to New Virginia. It was my intention to take this road all the way to the point where it junctions with US 69 just outside of Osceola, and although it's a very straight shot to New Virginia we haven't had the normal intense heat of an Iowa summer yet so everything is still very green and lovely to look at even if there aren't many curves.
Coming into New Virginia, we noticed that they were having their annual "old settler days" and that the main street was closed off for the festivities. Not wanting to inadvertently get mixed up in a parade (or otherwise make a spectacle of ourselves in front of the townfolk), I took us on a detour just to the east of Main Street. I think that R45 actually picks up again on the far side of town and heads straight down to Osceola, but I wasn't sure how much of the road was closed off so instead I thought, well we can just head over to 69 from here. I was thinking it was only a couple of miles.
Turns out it's actually EIGHT miles, so I admit that after a few of them I felt kind of silly – I was only doing this because I wasn't familiar with the streets of New Virginia and didn't know exactly how I could pick up R45 on the south end of town (when in reality it was probably a matter of just cutting back over to the west at the other end of the barricaded area), and here we were going 20 miles out of our way just to avoid a few old settlers.
Ah well, I thought, this is the way we roll – east when we want to go south, 20 extra miles to avoid even the possibility of hitting a short stretch of gravel. We finally caught 69 at the tiny town of Medora and headed back to the southwest. This was a very pretty stretch of road, and eases straight into the northeast end of Osceola. We stopped for a quick potty break, where to my relief everyone confirmed that the detour had made for a nice ride. We then continued a few more blocks south past the square to pick up Highway 34 going west, and arrived at Chipp's Harley Davidson on the west end of town.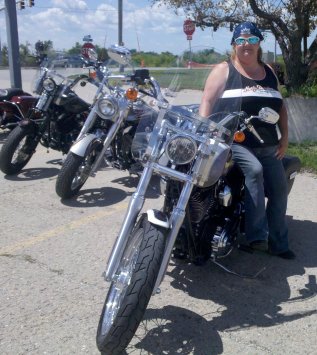 We shopped for do-rags (you'll recognize Steve on the road now because he new 'rag has smiley faces all over it!) and I picked up a few copies of the new Throttler magazine, which has one of my articles in it. I was so excited to see my name in print in a biker magazine that I hustled over to the rest of my group and pointed it out; a salesman for the dealership overheard me and asked me to autograph a copy for him – that was a first for me, and it gave me a huge chuckle.
Finally we were ready for lunch and as we were getting ready to leave out in the parking lot, a very nice guy named Larry came up and asked me if I was "Biker Chick." I laughed and said yes, and he mentioned to me that he reads and enjoys the blog. I'm always surprised when this happens, and I'm delighted any time someone takes a moment to introduce themselves as a reader. Thanks, Larry – it was great to meet you and very nice of you to say hello!
We back-tracked up the road a half-mile to have a leisurely lunch at the Family Table restaurant – another of those locally owned Iowa diners that brings you more food than you can possibly eat for a very reasonable price – and then headed home the same way we had come in.
Stopped long enough to snap a couple photos of the Osceola statue on this end of town – a large carved totem by artist Jesse Kuhs, honoring the Seminole Indian leader for whom the town is named.
We traveled home northward along Highway 69, stopped again for a final break at Route 65 HD in Indianola, and took R63 back into Des Moines.
I am enjoying these shorter rides, but I think I am going to have to actually get off my duff and plan ahead a little bit – I'd still love to get around to visiting the Grotto of the Redemption and the Villisca Murder House this year, but that's not going to happen if we don't get out the driveway before 10:30 a.m.!