Scavenger Hunt 2010: Swan, Columbia, & Derby
I am still job-hunting these days but I will admit that the one thing I like about being unemployed is that I don't have to wait for the weekend to take a day trip! Last week we were invited by new pals Janet & Gerry to take a ride on Friday the 25th in search of some of the towns in our local HOG chapter's "scavenger hunt" series.
In the scavenger hunt, the idea is to ride to a list of towns and take pictures of yourself and your bike next to something that identifies the town – a welcome sign, post office, etc. – and turn in your photos to compete for prizes. Janet had mapped out a loop that would take us to three of the towns: Swan, Columbia, and Derby, and back up to Indianola for a visit to Route 65 Harley Davidson.
We couldn't have had a more perfect day for a ride – sunny and hot, but not too humid. Steve had decided he wanted to reminisce about "the old days" and try riding without his windshield, which he had removed the day before while cleaning his bike. "I'll just try it 'au naturale,'" he said.
We took off from Big Barn HD around 9:30 a.m. and headed south through Des Moines, past the state fairgrounds and then along Vandalia Road – which, once you get past the industrial "arm pit" portion, is a very pretty ride to the southeast.
We turned south on Highway 316 and took that to Swan, a tiny town of about 120 and at least one very friendly old, fat yellow lab who greeted us as we parked in front of the town hall. We snapped our photos and remarked on all the water we'd seen – the Des Moines River is out of its banks again, and it looks like we could easily be in for another "hundred-year flood."
We left Swan and picked up Highway 5 heading southeast, then turned south at Highway 14. Our next stop was supposed to be Columbia. We soon came upon a nice junction-type intersection that I was sure would be our turn – only it wasn't. Kept going, and shortly came up over a hillcrest and suddenly our turn was on the left – not marked with a regular green highway directional sign, but the only indication being a white sign on the left bearing some sort of commercial message along with the name of the town and an arrow.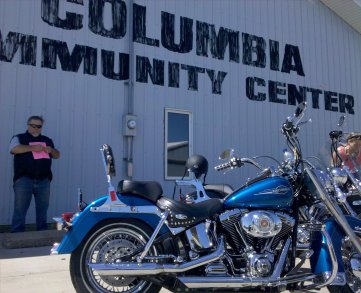 I managed to get slowed enough (down from 55) to safely make the left-hand turn, as did Gerry and Steve – but Janet, who was directly behind me, did not. She was forced to make a nasty U-turn in the middle of the highway, with that stupid hillcrest preventing a really safe judgment as to oncoming traffic. She safely made the turn-around and joined us on the road into Columbia – a town so small its population is not even noted on my state map.
We paused for more pictures in front of the Columbia Community Center and I think that between the guy running the tire shop, the guy driving back and forth (why?) hauling a long horse trailer, and the older man sitting on his porch next to the park, we saw all the permanent residents of the town.
We headed back out toward the highway and watched Janet almost get skewered by a guy driving a large industrial forklift – for some reason (maybe because I was in the lead and displaying too much blindingly pale cleavage, but I can't be sure) he wasn't paying full attention, and turned VERY wide out onto the road into our lane – I zipped past him okay but Janet had to scoot wayyy over to the right, all the while staring down the barrel of one of two giant "tines" on his forklift.
Needless to say, we were glad to leave Columbia behind and continued south down Highway 14. (This is as good a time as any to caution you: if you are a motorcyclist in Iowa, Highway 14 hates you and wants to kill you by rubbing you painfully over its washboard road surface.)
South of Chariton, we picked up H50 and headed west over to Derby, our third stop. Once there, we pulled in front of the Post Office ("US Vehicle parking only" – hey, we are from the US so we parked there – plus, the postmaster had clearly marked the front door "out to lunch."), and immediately noticed that the PO was the only building in the short little strip that was presently occupied by anything other than possibly animals – everything else, though in the past they must have been businesses, appeared to be empty.
I think it was here that Steve made the off-hand statement that he'd be putting his windshield back on when he got home. I'd thought about him back there, every time a large bug would hit my windshield, and knew he had to be taking at least as many direct hits. He had had enough of 'au naturale.'
We picked up Highway 65 to the north just outside of Derby – a section of highway obviously in cahoots with Highway 14 – and rode north into Indianola. A visit to Route 65 HD and lunch at the One Stop completed our trip – from there it was a straight shot along Highway 65/69 into Des Moines, where we waved good-byes to Janet & Gerry as they continued north.
It was a beautiful day, and the good news is my cleavage is now getting tan so I won't be blinding any forklift drivers for the rest of the summer. And, bonus for Steve: without the windshield he was afraid he would lose his favorite hat so he rode without that, too, and later found that his, um, thinning hair… had caused his scalp to be vulnerable to the sun's rays. Needless to say, a top-of-the-head sunburn makes hair brushing a little painful.