In other news…
In other news…
A few other miscellaneous things going on recently –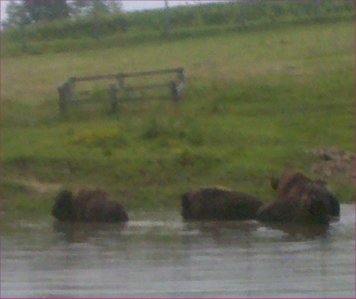 We took a nice ride up around Saylorville and Jester Park this past weekend after spending some time at the Big Barn HD Open House. (The photo at left shows Jester Park's resident bison, bathing in their watering hole.) We noted that, while speed bumps in Jester make it a VERY unfriendly place to ride, at least the repair crews are working on all those horrible seams in the road along 415 on the north side of the lake.
Are you familiar with Examiner.com? It's a website where writers from your local area file reports about every topic imaginable, with a local slant. Well, I've just become the "motorcycle Examiner" for the Des Moines area! So, in addition to all the goodies you normally find here, I will be posting some things there occasionally as well, mostly of a more "local news" nature.
Also, I'm excited to report that I'll soon have a couple of articles coming up in regional motorcycle magazines. I will keep you posted so you can catch them when they come out, and will plan to do profiles here on the blog of each publication so you can learn more about them!
Finally, met (by phone) a great guy name Greg Crook from Hornick, Iowa who owns Leather and Hawgs. This is a leather shop with not only the store in Hornick, but also a seasonal store over in Soldier, IA, near the Loess Hills region. You'll be reading more about them here on the blog, too – they not only sell all kinds of biker leather, but have some great events coming up as well!