Mom thinks riding is 'unladylike'
I recently read a really neat story that touched on something  experienced by a lot of women who ride motorcycles: the reaction of our family and friends, particularly our mothers. Now I don't know about yours, but my mother was terrified of motorcycles. She would not let my dad own one, and she was absolutely against me owning a Honda Express when I wanted one as a teen-ager. (I eventually won that battle – I have no idea how.) She did not live long enough to see me learn to ride a "real" bike, and would have been beside herself with worry had she been here.
The story I read was written by Condi Starks, a gal from South Central Kansas who's been riding her own for just about a year. Her current bike is a 750 Honda Shadow. But, Condi's mom used to fret openly that riding wasn't ladylike. I asked Condi if she would mind sharing her story here, and I'm delighted that she agreed!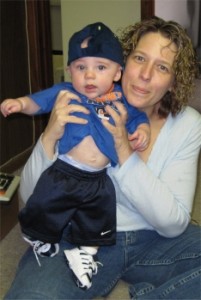 My Cute Mother
by Condi Starks
My mother is very much a Diva!  I mean in every sense of the word.  I love her to pieces but can't help but to just stand and shake my head at her.  She loves the attention and the drama that most "Divas" feed on, that's my mom!  She had a cow when I got my bike.  "Condi that just isn't lady-like!"  And then when I started shooting, she literally CRIED! And I am not even exaggerating, REAL TEARS because "I feel that you are losing your femininity!" We have talked and I "educated" her on what TRUE femininity was, and as you will see, I think she is a very good student.
A little history about my mother:  She came from a level of poverty that she was always embarrassed about; my grandfather worked his butt off, but with 5 children and one of them being a "special needs" child, it required that work and dedication from my grandfather.
My mother was a pre-teen before they had an indoor toilet.  So based on the "lack of" when she was a child, she created an image of what a "Perfect world" should look like and has strived to make her world as perfect as her mental image.
She dropped out of school in the 9th grade and went to work.  Then a few years later she met my dad.  He came from a very dignified family (mom's dad was gruff and teetered on abusive).  My dad's family was not "rich" by any means – they were dairy farmers here in Kansas and eventually lost the farm, so money isn't what bought them respect in the community. It was their values.  This was the "Perfect family" in my mother's eyes and she tried to mold me into THEIR image. (I don't do so bad really but mental image is a hard thing to live up to).
My mother has since worked her way up to being the CEO of her own corporation, owning several tax franchises, and has every right to hold her head proud in her own right.  But she still struggles with "Mental Image" of what is "Perfect".  And ladies on bikes, shooting guns is not the mental image she has of a "Dignified Lady." UNTIL….
I told her "Mom, when I am on my bike I am free.  And there is nothing MORE lady like than FREEDOM.  I am free to be who I am, I am free from gender barriers. I am in control of my own destiny when I am on my own bike.  I am not sitting behind someone putting my life in the hands of THEIR riding skills.  You have always taught me to be in control of my own successes and failures, when I am sitting at the controls of my own bike I am in complete control.  I have POWER, when I hit that throttle and my bike roars, it screams 'I am WOMAN, I am FREE, I am IN CONTROL!'
"And when I pick up my gun and master the skill of shooting I am saying I have value enough to stand up for my right to be safe and secure!  There is nothing lady-like in laying there letting someone rape you, there is nothing lady-like in begging for  your life, there is nothing lady-like in being reduced to hoping someone gets to you in time.  So by learning how to shoot I am learning how to protect the lady you created in me."
She just smiled! Now she BRAGS about my riding and my shooting.  Recently while at a family picnic with "the perfect family" one of my female cousins said "Ohhh I have wanted a bike for so many years, but how do you keep Helmet Head away?" Before I could answer, my mother answered for me.  She said "That's why you wear Doo-Rags."
I smiled and winked at her.  By George I think she's got it!!!