Tips for car drivers on sharing the road
Hat tip to Rippin-Kitten for the alert on this link!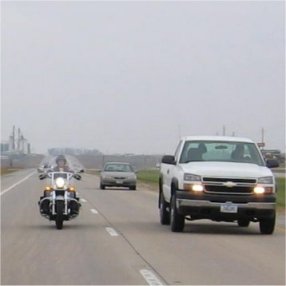 Here's a link you can share with the cagers in your life – information from the Motorcycle Safety Foundation (MSF) on sharing the road with motorcycles, found on their new website www.forcardrivers.com
I don't know about you, but riding a motorcycle has actually made me a better driver overall: I am more watchful, less likely to take up a distraction like talking on the phone, and I make a conscious effort to look for bikes year-round (because you never know when we'll get a nice day in January!).
I do think, though, that most drivers forget over time whatever information they may have been given during Driver's Ed regarding motorcycles. That's why the MSF site is a good one, especially the Quick Tips page.
All the tips are good, but this one strikes me as something a long-time cager might "forget" over time:
Motorcyclists often adjust position within a lane to be seen more easily and to minimize the effects of road debris, passing vehicles, and wind. Understand that motorcyclists adjust lane position for a purpose, not to be reckless or show off or to allow you to share the lane with them.
I've had direct personal experience with drivers crowding me, or members of my merry band – in fact, last time our daughter joined us for a ride on her dad's bike, some asshole scared her to death by following way too closely and way too aggressively. And I thought, "Are you serious? You would risk killing a dad and his daughter because you thought we were going too slow? DO YOU NOT SEE THE SLOW-MOVING CAR WE ARE ALL FOLLOWING??" (There was more to this thought-stream, but I'll spare you the details.)
I'll have more soon on another of the tips (the one about motorcycles and their stopping distance) – but for now, just wanted you to be sure to check out the site and use the comment section below to offer your "share the road" tips and stories.