Grover uses 'over-looked' canvas to create custom leather seats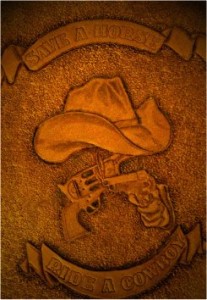 Back in February, when we were all just about bonkers from the Winter That Wouldn't Quit, we had the opportunity to visit the annual motorcyle swap meet. As soon as we got inside, I almost immediately came upon Tina Anders-Grover, a local leatherworking artist and owner of Custom Leather Design. I was impressed with the inspired hand-tooled leather bike seats on display.
While today much of Tina's Des Moines-based business is devoted to custom seats, she actually  began her career in leatherwork when her husband needed a belt made to club specifications. Being an artist familiar with other media, Tina decided to make the belt herself. Soon she was making wallets, toolbags and other items for her husband and his biker brothers.
"As an artist, to begin with, I was amazed at the ability to bring my art into 3D, and still am to this day," Tina says. She considers the motorcycle seat to be an often over-looked canvas on the bike.
"So many people put thousands into custom paint jobs, chrome and flashing lights, but forget that when someone stands above your bike looking down… what do they see? A gorgeous bike, with a blank seat."
Each one of Tina's seats is a one-of-a-kind creation, hammered and crafted with traditional tools. She'll create the design from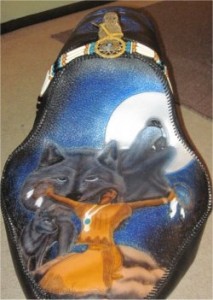 scratch, or work from the bike owner's design. Her own bike seat brings in a variety of leatherworking techniques including snakeskin inlay, Spanish lacing, and colored mural-like images. Most designs are not as complex, she says, but every seat gives the owner's bike a custom look.
"I have learned much from leather crafting," Tina says. "Mostly I'm very glad that the night my husband came home asking for a belt, I chose to be a cheapskate and do it myself, because you never know when pinching a penny will earn you lots of them and send you into a career that you love!"
To see more of Tina's work, or to get an estimate for customizing the "over-looked canvas" on your bike, contact Tina at 515-422-7277.