Friday Fives: 5 tips for being seen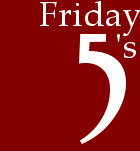 One of the principles that guides virtually all of my riding adventures is this: "No one sees you. And those who see you, want to kill you." It may sound extreme, but it keeps me always mindful of the importance of being visible – especially given that statistics now show that "distracted drivers" are a primary cause of multi-vehicle accidents involving motorcycles. In fact, just this past week, there has been a tragic story reported of a truck driver who, momentarily distracted, plowed into a group of eight bikes – killing three riders.
At the February meeting of our local HOG chapter, Safety Officer Andy Lara presented a list of tips to help you be seen on the bike. I thought I'd share a few of them here, and hope you'll add your own best tips for visibility.
Wear bright colors – the Day-Glo yellow worn by construction workers is a good choice!
Use reflective materials – on your person as well as on your bike!
Additional lighting on the bike – the newer flashing brake lights are attention getters!
Ride defensively – look ahead, see and plan for potential hazards before they become a problem.
Adjust your lane position – to stay out of blind spots.
In riding, as in driving, there is only so much you yourself can do to prevent accidents. The above tips will help you do all you can to protect yourself, even though you are only part of the equation. What are some of your strategies for being more visible on the road?