The Picky Bitch is for sale!
Update 4/3/10: The Picky Bitch is no longer for sale.
Well it's a bittersweet Spring for me – as you probably know, I bought a 2007 Harley Sportster 1200 Custom late last summer. The bike is great and I am really enjoying it. But, it means that I must sell The Picky Bitch. And that kinda hurts, because she's the bike that gave me nearly all the adventures I've shared on this website! So before I lose my nerve, here's the official announcement: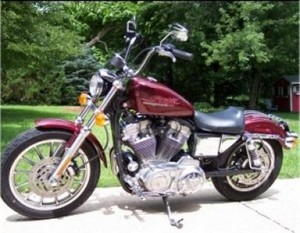 The Picky Bitch is for sale! She is a 2000 Harley Davidson Sportster 883 in Luxury Rich Red with just under 15,500 miles and is located in Des Moines, Iowa. This bike was perfect for me since Day One – always lady-owned, lowered front and rear and set up perfectly for shorter riders like me! (Of course, you can raise her back up if you aren't vertically challenged!)
She's in great shape, clean and shiny, with brand new tires front and rear. (No kidding, less than 50 miles on 'em!)
She's got forward controls, mini-ape handlebars, 11-inch Progressive shocks, and drag pipes, plus lots of extra chrome.  I thoroughly enjoyed owning and riding this bike, but now it's your turn to have some adventures with her.
Asking $4,600 or reasonable offer – sorry, no trades. See all the pictures over on Webshots. Any questions, just send an email to janetgia@yahoo.com.