Ladies Night at Big Barn HD was a blast!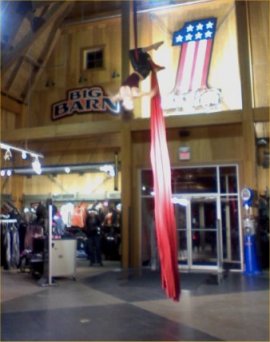 Had a fun Saturday night this past weekend enjoying Ladies Night at Big Barn Harley Davidson – a nice opportunity to socialize and shop, but with the added bonus of food and drink.
The evening event included in-store specials on apparel and parts, music by One Night Stand (GREAT group, managed to turn "Another Brick in the Wall" into a funk song, then paired it with "Shake Your Booty" – more funk with "Brick House," Prince's "Let's Go," and oddly enough one of my least favorite funk tunes, "Flashlight," which I  thought had mercifully faded into the annals of music history), door prize drawings, and entertainment by aerial artist Ann Stimmel.
Now she's worth a paragraph all her own – this gal is amazing! I had thought, when Big Barn promotions manager Amy Shane-Nichols had promised an aerial artist, that we'd walk in and see a high-wire strung across the rafters of the barn. Turns out that's not the act at all. Instead, Ms. Stimmel shimmies up a pair of floor-to-ceiling silk  fabric drapes, then proceeds to twist, turn and flip about (to music, of course) by virtue of being wrapped up in the drapes in various ways. I posted a couple of pictures on Facebook, and tried to shoot a little video with my cell phone camera (which, not surprisingly, didn't turn out all that well). For a better understanding of what Ms. Stimmel was "up to," see this Facebook album by Ann Martineau Breier.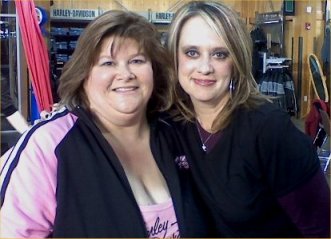 The best part of the evening though, was getting to meet my fellow biker chick blogger, Stephanie – aka, Iowa Harley Girl. Now she and I have been attending the same events for years, and commenting on each others blogs for a few of those years, but had never met in person. So, it was a delight to get to hang out with her for the evening. We were also BOTH thrilled to meet a couple of fans of both our blogs – now that is a hoot, when someone steps up to you and says "Hey aren't you that girl with the blog?"
Oh – and one other thing… something called a Mango Margarita… yeah.
How was your weekend?