Good tips for ride leaders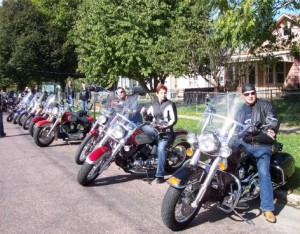 Jay's got a strong list of tips for road captains over at Road Captain USA, and, although I'm not a sanctioned road captain I've led a lot of rides so thought I'd make some additions here instead of whole-posting in his comments section. (Jay, hope you don't mind the link!)
Most notably, two things:
First, there's another reason to park away from the front door of the convenience store – when you get a little farther away from the entrance, you likely have more room for all the bikes in the group. You then have a better chance of getting parked in some kind of group or even loose formation for making an organized exit.
Second, I disagree that the group leader should "ride their own ride."  The group leader has to ride within their own skillset and comfort zone, for sure. But part of being the leader is keeping track of the rest of the group. and that's not possible if you just focus on your own ride.  That's not to say the leader shouldn't have the opportunity to enjoy the ride. But it's important to know what's going on with the rest of the group. I think the key is really just to find the middle ground.
Beyond these, here are a couple "tips" of my own – well, not really tips, just things I try to do when leading a group that I think make it more enjoyable.
1. I don't abandon people just because we've reached the destination. I know it's "policy" in some sanctioned riding groups that the ride ends the moment you arrive, and certainly in larger groups that's because people want to be free to head home as meets their needs. For the kind of small-group rides I'm usually leading, it just feels like common courtesy to lead the ride home too.
2. I try to pick destinations that have food and something interesting to see. Of course, the day is mostly about the ride itself. But it's nice to have something to explore, if even for a short time, to give everyone a break. As for the food – the logic of that just goes without saying.
If you find yourself leading rides, what are your tips? If you tend to follow, what do good leaders do that make the ride more enjoyable?