Estrogen Ride 2009, Day Two
Many thanks to Holly N. for providing me with a wonderful multi-part series covering the 2009 Estrogen Ride, and to Vicki D. for taking such great photos!  Sounds like a wonderful time, I'm sorry I missed it this year! If you were there, be sure to add your stories in the comments!

by Holly N.
Saturday morning the weather gods blessed us again with clear skies.  Unfortunately, Alicia had to say farewell and head back to Des Moines for a meeting…we were all sad to see her go but glad she got to enjoy a little of the trip!  L&M also has bins of towels to clean your bike off with so we all polished our chrome and gave the bikes a little sponge bath.  Lee had handed out our ride shirts before we left Des Moines and we donned them for our ride Saturday into Hannibal, MO.  Throughout the trip, our bright pink shirts and hoodies turned more than a few heads!  We loaded up our bikes, posed for group pictures (that, of course, included "Upstate"), got hugs from Lois and waved goodbye to the L&M.  We headed south on the Illinois side of the Mississippi following the Great River Road.
We made our first stop of the day in Port Byron, IL at a restaurant called "It's On the River".  As the name says, it is located right on the banks of the Mississippi with a wonderful deck we promptly took over.  Given that they really were not expecting such a large group, the proprietor and waitress did a fantastic job getting us all served.  The owner came out and visited with us and then gave us all tank tops with the restaurant's logo on them and just asked that we take a picture and send to him so he could put it up on the wall!  The food was wonderful and of course, we took this opportunity to get to know each other better, take more pictures and enjoy the lazy river.
Once again, we hit the Great River Road and even though I didn't plan to, we went straight through the middle of Moline IL.  When will I learn to read a map!  This was the first chance that we realized the hot pink shirts come in real handy when your group gets split up.  Very easy to spot!  Being the leader it is very heartstopping when you look in your mirror thinking you have 14 bikes behind you and you only see three!  We didn't actually lose anyone but we did get seperated a few times!  The road through Moline twists & turns and with stoplights, traffic, etc., it was hard to keep track of everyone.  At one point, some of us had turned around to go back and at the next stop light found the rest of the group on the other side of the road going the opposite way!  This was also when I pulled up beside an older man in his car, tapped on his window to ask directions and thought I was going to have to administer CPR!  I thought for sure he'd hear me pull up but guess my bike isn't as loud as I thought it was!
Just south of Moline is the tiny little town of New Boston IL.  Now, when you get to the junction of Hwy 92 and 17, if you turn west instead of east, you come to New Boston….and the highway ends in the river!  Not believing the sign, I had to check it out myself (by this time, the group is already manuvering their turn-around without me telling them to!)  But Illinoisians are friendly people and a couple riding around town in their golf cart were glad to give us directions to get us out of town and back on the road.  After circling through New Boston one last time (why not!) we got back on track and rode down to Nauvoo IL  where we made a stop at the historical center of the Church of Jesus Christ of Latter Day Saints. We got there about 20 minutes before closing time so didn't actually tour the facilities (although the bathrooms are nice!) but did stroll through the beautiful, peaceful gardens that are adjacent to the building.  These were lovely and we were all amazed at the variety of plants and shrubs and how well kept the garden was.
At this point, we had our first mechanical problem of the trip.  Judy B. noticed that her rear tire was low.  So Judy, Kris, Kathy, Jen & Lee headed to the convenience store in town to put some air in it.  We all meant them there and Judy's tire did have a slow leak so we decided to split into two groups.  That way, they could stop frequently to check the tire pressure and the rest of us would haul ass to Hannibal.  It was after 5:00 in the evening when we left Nauvoo and we still had some miles to cover that day.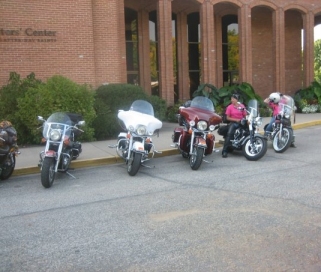 We crossed back over to the Iowa side of the river at Keokuk and promptly crossed the Missouri border.  Missouri is a helmet state so we had to do an emergency stop by the side of the road and get our helmets on before we got busted by The Man! The main group of us made it into Hannibal without further incident and, once again, I hadn't gotten directions to the hotel (minor detail!) and had to call for directions.  We stayed at the Super 8 on Hwy 61.  Your typical chain motel but Karen working the desk that night was very nice and accommodating.
When Judy and her four "road angels" arrived, boy did they have a story to share!  During one of their tire check stops, Lee noticed that Jen's headlight wasn't working.  They found an Auto Zone and bought a replacement bulb. Headlight still didn't work. Being mechanically minded, they realized that there must be a bad fuse. Out come the leatherman tools, allen wrenches, Jen unloads her bike, they pop the seat off and start testing fuses.  About this time, a man walks out of Auto Zone, takes one look at them and says "I think I'm in love!  You girls know more than I do!"  By this time, the two Auto Zone workers are basically being errand boys for our intrepid girls, running back into the store to get a fuse, electrical tape and whatever else they might have needed!  Jen likened it to a NASCAR pit crew at work!  Yes, they are bad-ass biker bitches!
Saturday night was pretty low key with a "parking lot" party on the patio at the Super 8 with everyone turning in rather early after our long road trip that day.
Day three coming up next!