Sturgis 2009, Day Six: The deer are mocking us. Oh, and it's raining.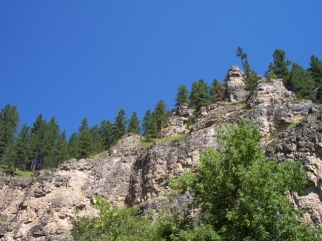 The other ride from our previous Sturgis trip that I wanted to be sure to repeat was the run through Spearfish Canyon. This road isn't especially challenging, but it is stunningly beautiful and does have some nice sweeping curves that reveal rocky bluffs, babbling streams, and frequent opportunities to zip into a turn-out to take photos.
There's also another canyon, named Vanocker, that we hadn't visited in 2006 – so my plan was to map out a loop that included both. My loosely-constructed plan was to take I-90 to the Vanocker exit at the east edge of Sturgis, ride that Canyon south to Nemo Road, take Nemo Rd. west to Highway 385, then take 385 back up toward Lead & Deadwood and pick up Spearfish Canyon on the north side of Lead.
But I'm getting ahead of myself. It was Thursday, and I knew the Canyon loop by itself was not going to be a full day's ride. Not having anything to add to the plan, and with the rest of our group headed back for a second day of walking around Sturgis, I opened up a Black Hills/Sturgis Rally guidebook looking for suggested rides. Flipping through the book, I noticed a loop heading west that included Sundance, Wyoming along I-90 and then west and north to Devil's Tower, then back to the east along Highway 34.
So the new plan was to visit the town of Sundance, check out the views of Devil's Tower coming from the south and west (opposite directions from Tuesday's ride), and then ride Highway 34 eastward back through Belle Fourche and on to Sturgis – where we'd pick up Vanocker Canyon. I was happy to be doing something that, again, was different from our previous trip, and seemed like a good plan. One of the best-laid plans.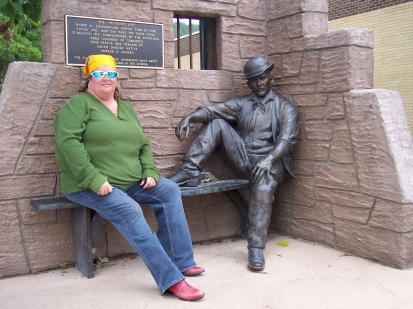 We headed out of Belle Fourche, south on Highway 85 to I-90, picked up 90 going west, and exited to Sundance a short time later. We could see there was rain up ahead, but fortunately we managed to miss it. Sundance is probably best known as the town where the outlaw Harry Longabaugh spent 18 months in jail – and afterwards adopted his nickname, the Sundance Kid. Before that, of course, it was open land at the foot of Sioux Mountain where Sioux Indians roamed and performed their ritual dances.
Things were quiet in Sundance on the day we visited, but there was evidence that it had been quite the opposite the day before: a three-by-four-foot patch of "laid rubber," where obviously a burn-out contest had claimed several tire victims. Our guidebook had suggested a visit to the Crook County Museum ("old West artifacts!") located in the basement of the courthouse on Cleveland St. Always a sucker for artifacts, we parked the bikes next to the laid rubber and were delighted to see that the first "artifact" inside the museum was a stuffed jackalope. Ah, my kind of place.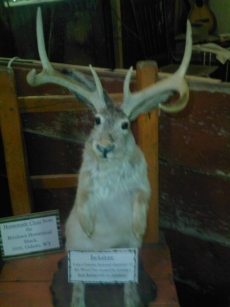 Now I have to say, the folks who put this museum together did a wonderful job – especially given the size of the community and the limited space they had to work with. There were indeed plenty of "old west artifacts," arranged in little vignettes such as the cowboy's bunkhouse and "The Sundance Kid was convicted here" courtroom.  Signage explained many of the items on display, and the staff members were friendly and helpful. We spent probably an hour exploring the museum, then took photos next to a commemorative statue of Longabaugh. We had thought we might grab lunch at Higbee's Diner on N. 3rd Street, but upon entering discovered that every single seat was occupied. We decided instead that we would stop in Hulett when we passed through and get something to eat there.
We left Sundance along Highway 14, then picked up Highway 24 north to Devil's Tower. It really is a different view from this direction, but we did not stop for a second visit at the Tower. Instead we continued east along 24 til we got to Hulett. It was pretty quiet here, too, and our first restaurant choice had actually closed for the day by the time we arrived. Good thing, too, because that forced us to continue on around the corner to grab a sandwich at "R Deli," which was quite simply outstanding. Steve said he had the best BLT there he'd ever had (piles of thick-cut bacon), and my roast beef-and-Swiss was excellent as well.
After lunch we continued east on Highway 24 – again, it really does look different heading the other direction – which became Highway 34 as soon as we crossed into South Dakota. We rode on through along 34 all the way to I-90, then west a few miles to the Vanocker Canyon exit at Sturgis. Topped off our gas, and set off down the canyon road.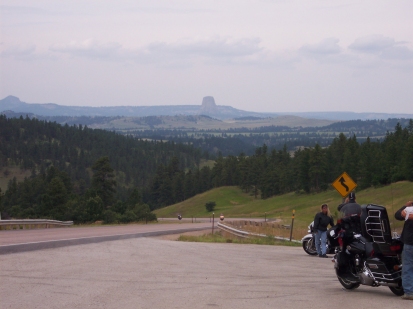 Maybe even moreso than Iron Mountain Road, I love these canyon roads because they are curvey without being distracting in their level of difficulty. The canyon itself is a wandering ribbon of highway surrounded by rocky bluffs that are covered in native spruce and Ponderosa pines. (Have I mentioned yet that this whole region smells like cedar and pine? It's heavenly.) It was very similar to the way I'd remembered Spearfish Canyon from 2006, but with its own unique features and beauty. One thing I did notice was that by this time, it was getting a bit dark. Not because the sun was going down, but because it was becoming overcast. By the time we reached the end of the canyon road and turned to the west on Nemo Road, I was riding with my sunglasses positioned down at the end of my nose so I could look over the top of them – it was too dark riding with them otherwise. This was an indication that the usual afternoon rain was going to come in as planned (the lightning up ahead was another sign), and if we were unlucky we'd get caught in it.
We zipped along Nemo Road to the west, and where it connected with Highway 385 we stopped for a bathroom break. It was here that I broke one of my cardinal rules of Sturgis-area riding: I had positioned us so that we were going to have to turn left onto the highway to go our desired direction, crossing heavy traffic. To make matters worse, the driveway exiting onto the highway was on an incline. Anyone who rides, or anyone who drives a stick-shift car can tell you that the challenge here is to not stall the vehicle, give it just the proper amount of feathered clutch and throttle, AND avoid being killed by oncoming traffic – two directions' worth! Now mind you, I *hate* these kinds of challenges. I like having conquered them, but I hate having to do them.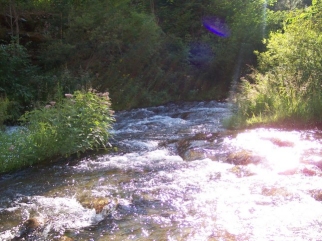 Fortunately, we caught a break in the traffic and both got out onto the highway at the same time. Heading north, we had a sense that our luck was going to change – it was sprinkling. The problem here, of course, is not only that a wet road is a slick road…it's also that there's no way to clean the water off your windshield while you're riding. So you have to look over the top of the windshield, which means the sprinkles are hitting your glasses. Which you ALSO cannot really clean well while moving. Or which, perhaps, you've already put away in your saddlebag at the potty stop because it was too dark to wear them.
In any case, you're kinda screwed in the rain when it comes to moving forward. We pressed on briefly through the sprinkles, heading north along 385, but finally decided we really needed to pull over. We picked a turn-out that I'm CERTAIN is the same turn-out we'd picked in 2006 for the exact same purpose – putting on our rain gear. We donned our jackets, and took off again, but not too far up the road it started raining hard enough to the point where I just couldn't see anymore.
Okay, so to recap: it's raining, it's slick, I'm getting soaked, and it's time to pull off again. I realized, once we got stopped, that the turn-out I'd picked was at the highest point on the hill we'd been climbing. (Are they hills? Mountains? I guess compared to the Rockies, they're hills. At this point in our ride, however, in my mind they were mountains. Impassable, never-ending, biker-eating mountains.) And the lightning was now directly overhead, cutting across the sky seemingly just 100 feet or so off the ground. At this point I happened to look across the road and saw my first deer of the entire trip. She was sitting there, chewing, and staring at us. Mocking us, protected as she was in a grove of trees. It was the last straw. The lightning, the rain, my wet clothes, and that stupid friggin' deer were just too much, and my lower lip started to quiver. Hey, I may be a biker, but I'm still a girl. I reserve the right to cry at the drop of a hat. Hell, I could always blame it later on monthly hormones.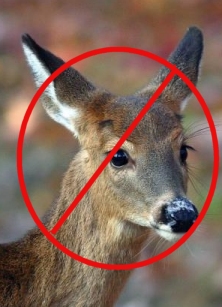 But I didn't. I was stomping around at the turn-out, mad as hell, and happened to look over at Steve. "Hey now, it's all part of the adventure. We'll be fine, but we have to get off the top of the hill," he said. So I cut off the impending tears and just got back on the damn bike, and rode it on down the hill. We could see brighter skies just a mile or so ahead, and knew we'd be out of it soon.
Except we weren't. Instead of letting up, it continued to rain as we progressed slowly northward along 385. By the time we got to Lead, it was raining again pretty hard and the sky was completely overcast – as if the rain had settled in for a good long time. I had it in my mind that Spearfish Canyon was just on the north side of Lead, but once in Lead itself I realized I was unfamiliar with the roads. After riding through the middle of a neighborhood, I pulled off briefly across from the junior high school to reassess and then pressed on rather blindly. We ended up in Deadwood, with the rain coming down, and I told Steve, "Screw Spearfish, I'm going to skip the canyon and just get home by the route that I know."
We passed through Deadwood and shot out the other end heading north on Highway 85. By the time we reached I-90 to head west back to Belle Fourche, it stopped raining completely. The last few miles of the trip were run in relative safety. We arrived back at the motel having missed Spearfish Canyon, and completely soaked. Perhaps next time we would be smart enough to put the rain gear on BEFORE it started raining. Perhaps not.
One interesting note, this storm continued eastward and once it hit Sturgis (where we'd been just a couple hours before), it dumped baseball- and golfball-sized hail on everything from folks in cars to folks on bikes and folks camping in tents. As frustrated and near tears as I'd been, I was damn thankful that our share of the storm had merely been the rain.