Sturgis 2009: Day Two, South Dakota Breezes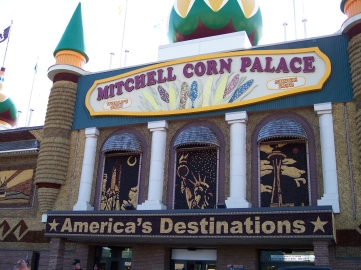 You can't really stay in Mitchell, South Dakota without visiting that city's primary attraction, the Corn Palace. The Corn Palace was originally built in the 1800's by a guy who got tired of people claiming "you can't grow anything in South Dakota." He proved them wrong by covering the outside of the building in local crops, and each year since it's covered in a new design. In doing so, of course, he also "put Mitchell on the map" with this unique and slightly weird tourist trap.
In 2006, we stopped outside the Corn Palace for photos, but didn't go inside. This year, I ventured in to see what was there and – surprise! – the Corn Palace is actually a concert/performance venue. In the lobby are exhibits showing off past corn designs and detailing the facility's history.
We left Mitchell at about 10 a.m. and headed west on I-90, taking a butt break at the Chamberlain rest area. I mention this because this facility has a really informative and interesting exhibit about the Lewis & Clark expedition, as well as a wonderful scenic view of Lake Francis Case along the Missouri River. (Chamberlain is also home of the Akta Lakota Museum, dedicated to the history and culture of the Plains Indian tribes.)
As in 2006, gas stops were again in Kennebec and Kadoka – though, again for future reference, Murdo also has complete services and another tourist attraction I'd like to visit, 1880 Town.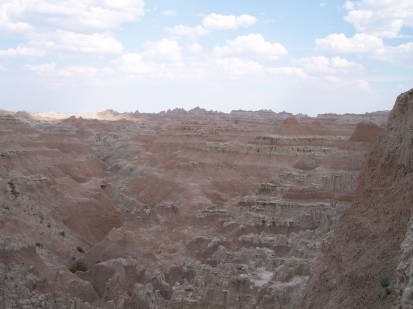 The wind was beating us up pretty good all along here, and by the time we reached Kadoka it was really hot. Quite a difference from the morning, when we'd left Mitchell in our leather jackets.
West of Kadoka, we picked up the "Badlands Loop" which is Highway 240 through Badlands National Park. From the Interstate, you do get the sense that the landscape is changing – especially beginning just west of Chamberlain where the grass-covered hills begin to gently roll. Farther west you start to see some bluffs in the distance. But the Badlands loop offers up the full beauty of a very different landscape that lies just south of the Interstate.
It's hard to believe that this area is just a few miles from the green rolling hills along I-90: barren eroded ledges with striations of the various rock layers clearly visible… giant craters of jagged layered rock, hundreds of yards across… beautiful grassland with these barren formations jutting from the ground… and a sweeping curvaceous highway taking you through it all with a multitude of turn-out points for stopping to marvel at the view and take photographs. South of this is another highway through the Badlands National Grassland – also beautiful, I'm sure, but more prairie-like and without the up-close view of the rock formations according to the helpful attendant at our Chamberlain stop.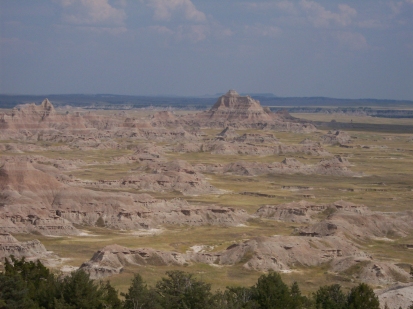 The Badlands loop ended with a straight 8-mile stretch into Wall, SD, and the worst cross-winds of our trip – I felt like my helmet was trying to lift off from my head.
Having started this day at one famous South Dakota tourist trap, we of course had to stop at the other: Wall Drug. In the old days of cross-country travel, Wall Drug was simply a drug store where you could get a free drink of water as a reward for having crossed nearly the entirety of hot, dry South Dakota. Today, it's a series of shops selling everything from sundries to souvenirs, situated on Main Street in Wall – a tiny town of about 800 permanent residents who welcome millions of tourists all year long.
Although we were all feeling pretty beat up by the time we reached Wall, we still had almost 100 miles to go – time to suck it up and ride. Which we did, on through Rapid City with a butt break at the Tilford rest area, past Sturgis, and up Highway 34 to Belle Fourche.
We arrived at our motel around 7 p.m., had supper at the diner next door, and dropped into bed. We were heading into Sturgis the next day.