Sturgis 2009: Day One, half-way there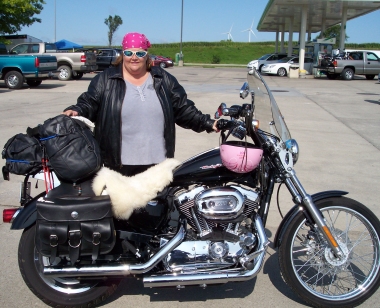 I had all good intentions of "live-blogging" the trip to Sturgis this year, thinking it would make for more interesting write-ups AND save me the trouble of doing all the writing at once upon my return. But, I learned a few things out there on the road.
First, just because a place says it has wireless internet service doesn't mean it's going to be convenient or reliable.
Second, having access doesn't necessarily mean I am going to be in any condition to write coherent sentences at the end of the day, let alone string several of them together into an amusing (or at least accurate) story.
So the live-blogging plan was quickly shelved pretty much at the end of Day One, which took us from Des Moines to Mitchell, South Dakota.
We took the same route as we had in 2006: west on I-80/680, north on I-29, then west on I-90 to Mitchell. Stopped for gas at Walnut, gas and lunch at Onawa, t-shirts at Rooster's HD in Sioux City, the "Road to Sturgis Party" at J&L HD in Sioux Falls, SD, and stayed overnight at the Best Western in Mitchell.
This trip, though, was different because we had several other riders/friends with us – we left Des Moines with Garry, Shirley and Kristin, and met up in Sioux Falls with Shirley's sister and brother-in-law, Nancy & Chuck. Including Steve and I, we had six bikes and seven people – a manageable group of experienced riders.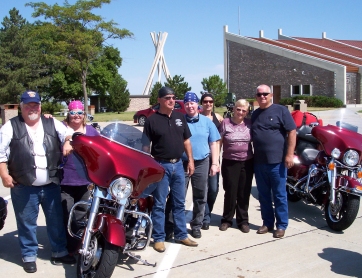 Also different this year was the weather. While our 2006 trip was almost stiflingly hot, only one time this year did we experience real heat. The rest of the week was unseasonably cool with daytime temperatures mostly below 85, night-time temps in the upper 50's, and skies running the gamut from bright blue and cloudless to partly cloudy or overcast and, a few times, dark and threatening.
One thing that wasn't different? The wind. The Interstate riding to, from and across South Dakota was ridiculously windy, to the point where I just felt beat up at the end of those days. In fact, the wind was the primary reason for this trip's nickname, The Suck It Up Tour: when you're trying to reach a destination that's 700 miles away, and the bike is your only mode of transportation, well, you just have to "suck it up" and ride.
And suck it up we did, all the way across South Dakota on Day Two.