Ride to Eat, part deaux: Lincoln Highway Bridge

This was a weird weekend for riding – all my weather sources predicted partly-cloudy, unseasonably cool conditions (low 70's), and no rain. So based on that, I was insistent all week that we were going to ride over to Tama to check out a little piece of history: the Lincoln Highway Bridge.
By the end of the work week, it was apparent that "partly cloudy" actually meant "really overcast." And you could look up at the sky and state with fair certainty, "It's going to rain." But the forecasters remained steadfast, so we decided first to take a chance and head down to Indianola for Bike Night on Friday. Turned out to be a great evening – cool, but not bad riding with the right jacket and gloves. Lots of bikes gathered around the Square, and by the time we rode home around 10 pm, it felt like it had even warmed up a few degrees. We were on track for the Saturday trip to Tama.
Saturday was pretty much just like Friday night – cool and cloudy. But, I'd been looking forward to the ride all week, and I suppose at this point only a downpour would have kept me from proceeding. We met up with Garry & Shirley as planned, and took off along Broadway Ave. to the east, out of Des Moines and through Altoona. East of Altoona, the road becomes county road F48, then transitions into Highway 6 once you cross Interstate 80. This is actually one of my favorite local roads – it passes through Colfax, Lambs Grove and Newton with some beautiful views of lush Iowa hills and farmland, then becomes extra-curvey (with new pavement!) from Newton to Grinnell. It took about an hour to reach Grinnell – we stopped there to top off the gas, and took a 20-minute butt relief/warm beverage break.
My original plan had been to ride all the way to Marengo, which is quite a bit farther east than we needed to go, and then to backtrack along a designated scenic highway from Marengo to Tama. But, because we'd actually caught a few drops of rain outside of Newton (which thankfully did not become a full-fledged shower), I decided to cut the scenic part of the ride short. The new plan was to go six more miles along Highway 6, and connect with 63 North on into Tama, which was only another 22 miles.
We came into Tama on 63 from the south, turned east on Fifth Street, and crossed the Lincoln Highway Bridge at the east end of town. There is a nice turn-out with an historical marker and parking area at the east end of the bridge, so we stopped there. The Lincoln Highway was the first paved transcontinental highway in the United States, and the nation's first national memorial to President Abraham Lincoln. It would be easy to say the bridge itself was anti-climactic – but it really wasn't. It's short, certainly – not even a hundred feet long – and it only crosses a small creek rather than a big river or major waterway. But the thing is, it's the only remaining original Lincoln Highway Bridge in the nation – it's most outstanding feature is the concrete lettering in the rails that spells out "LINCOLN HIGHWAY." We took several pictures and read the text on the historical marker, then crossed the highway to have lunch at the King Tower Cafe which is almost as old as the bridge.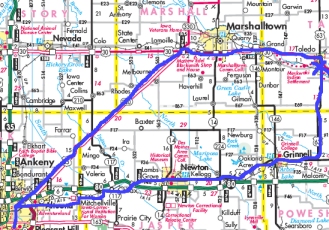 The King Tower is one of those mom-and-pop gems that serves fresh home-made food and appreciates the travelers who stop and take the gamble rather than opt for the "safe" fast food just down the road. It fit our "ride to eat" philosophy really well, and lunch was outstanding.
The ride home was much quicker – instead of the slower-paced two-lane, we took US 30 west to 330, then southwest into Altoona and Des Moines, which only took about an hour. (The sun even came out on the way home!) Having started our adventure by leaving home at 9:30 a.m., we were home by 4 p.m. – and, had only traveled about 150 miles. But it's the kind of ride I really like – pretty roads, an interesting destination, good food, and as always, family and good friends who are willing to humor me. Here's the album of photos on Webshots!
Your Turn! Have you visited the Lincoln Highway Bridge, or any other LH sites around the US? Are you as big a sucker as I am for historical markers? What's the best "mom-and-pop" place you've ever discovered? Tell us about it in the comments!