Riders travel to Freedom Rock to honor veterans
Weather's been beautiful here during the work week but crappy on the weekends, so I haven't been out on the bike for awhile. But, Cassie took the opportunity to ride to Freedom Rock near Greenfield on Monday, May 18. The group traveled over to meet the riders who are heading from the west coast to The Wall in Washington, DC in honor of Viet Nam veterans. (I think I'm going to have to make Cassie an official "stringer" for Biker Chick News – she takes a lot of great pictures and she manages to make the rides I usually miss!)
Freedom Rock is a large boulder situated on Highway 25 just north of Greenfield, Iowa. Each year, artist Ray Sorensen paints a veteran-themed collage on the rock to recognize US veterans.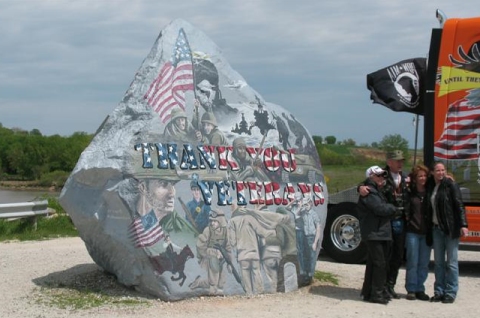 That's Ray in the white sweatshirt.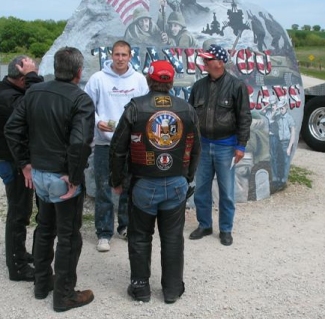 Here's a great-looking "rat bike" full of memorabilia – the riders also stopped at the veterans' cemetery in Marshalltown, Iowa.