Jamaica? No, she wouldn't let me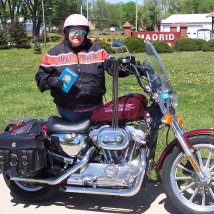 With temperatures below freezing around here for the foreseeable future, it seems as good a time as any to do a little "wishful remembering" about a couple of nice rides we took last season.
Our local Harley dealership, Big Barn Harley Davidson, had put together a riding challenge wherein they created a passport booklet containing a list of cities that you could ride to, document the rides, and then submit all your documentation at the end of the season for a chance to win prizes. The cities on the list were all named for famous places around the world. (I feel compelled to point out that I'd had a similar idea several years ago, only I just made mine a one-day adventure called the World Tour.)
It was our intention to complete as much of the passport as possible over the course of the riding season, but we had barely got started when our summer went to hell. We did, however, get in a couple of nice rides toward the end of May that I really enjoyed.
The first of them took us to Madrid and Jamaica, both small towns to the northwest of Des Moines. It made for a nice little day-ride, and in each town our "assignment" was to simply snap a photo of each person with their bike and passport in front of something that identified the town.
The ride to and from Madrid is actually one of our favorite shorter rides – it's the trip we take when we only have a couple hours but really want to ride. We took the slower-paced "scenic route" past Saylorville Lake and Big Creek State Park, and once in Madrid we used the city's landscaped welcome sign as our marker for documentation purposes.
We then headed west out of town on Highway 210, which T'd at 141. We took 141 to Jamaica, which turned out to be probably the quietest little town I'd ever passed through.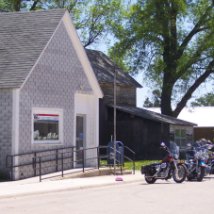 Once in Jamaica we didn't have to ride more than a couple blocks before we found the post office, just off the main street and next to a little pocket park that contained a well-kept community garden. Easy to imagine that this intersection, with the community center on the opposite corner, was probably the social hub of the town.
We lined the bikes up in front of the post office and snapped our photos. Steve and Howard had traded bikes for the trip over from Madrid, so they compared notes about Steve's HD Heritage Softail Classic and Howard's Kawasaki Vulcan Nomad 1500.
The ride home was peaceful and took us through Panora, down P28 and then east on scenic F59 and F60, into Adel and then east on Highway 6 for the final leg into Des Moines. When we got home we noted that, prizes aside, the passport would provide an easy answer throughout the summer each time we'd want to ride but didn't have a particular destination in mind. 
Next report: our trip to Peru.
Update: Someone who went on this ride, please chime in! Is this the one where Kristin & Hollie peeled off in Adel for dinner? Or is it the one where we actually took the lonnnnggg way home  and had our last stop in Altoona? My mind is playing tricks on me… guess I should write these up while my memory is still good! LOL