Ride for the Cure: A blast-and-a-half for a great cause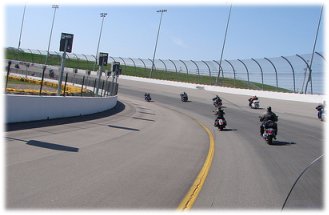 Hey Biker Chicks, have you had your mammogram yet? October, as you know, is Breast Cancer Awareness month, and every woman over 40 should have this annual exam. Mine came back normal, but there are two women in my life who have either survived it, or are currently battling it. It's a concern for every woman, regardless of age, family history or background.
One of the largest benefits this year (if not THE largest) was Ride for the Cure, benefitting breast cancer research. Ride for the Cure was held October 4 and in Iowa it consisted of several ride routes all converging on the Iowa Speedway in Newton, where thousands of riders gathered and got to blast around the track. The Des Moines group took off from Big Barn HD; Carole, aka Pinky, attended and shared TONS of photos. Here's what she told me:
Hey, Janet, I just wanted to let you know that the first annual Ride for the Cure was a tremendous success!  As soon as the final totals come in I will let you know what was raised but as for turnout there were 1200 registrants at the Newton Speedway alone!  A group of 330 bikes left Big Barn Harley Davidson being escorted by the Sheriff's department to Newton.  Other riders left from other dealerships across the state to meet us there.  When we arrived at the speedway everyone had the opportunity to ride around the lap which was invigorating to say the least!  I wasn't able to make the pitstop to the winery but heard it was really great too.  Everyone converged at the Val Air ballroom for the big nightcap with a great dinner, silent auction, live auction, and a live band which rocked!  I encourage everyone to plan on registering for next year's event which will be bigger and better (if that is possible)!!
The photo above and this Flickr album tell the whole story – if you have pictures or stories to share from this ride, please hit the "Comments" link and tell us about it!