What I've been up to…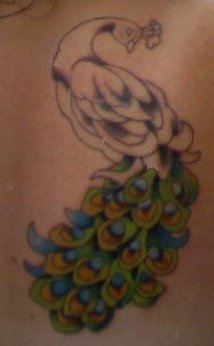 Summer has mostly passed – hubby and I did take a brief ride up to Ames last weekend (lunch at Hickory Park – YAY!!)… but that has been about it for bike stuff. On the housing front, we are ALMOST at the end of our flood journey. This week we received the proceeds from the sale of our house and we are getting ready to close on the purchase of our new home. I hope we will be moved in within two weeks, and then this long horrible odyssey will be over. And, I recently headed down to Lasting Impressions, where Laura created this absolutely perfect peacock tattoo using just some pictures I had printed out for inspiration. I obviously still need to finish it up… I got through 2-1/2 hours' worth of work on the tail, then the ol' adrenaline ran out and I couldn't stand it anymore. I will be going back to finish up in a week or so.
More soon… I sure hope there is something bike-related to talk about soon!