Ooo, right there, right there… right, no wait… yes, right… oh just give me the @#$ thing! National Orgasm Day is July 31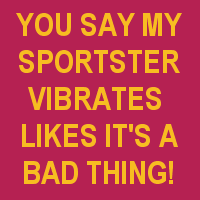 I just could not pass this up – a new study of British women has shown that 46 percent of them rarely have orgasms. This sad news is sure to put a damper on worldwide celebrations of National Orgasm Day, coming up July 31.
Fortunately for me, I own a pre-2004, non-rubber-mounted Sportster so I do not have this problem.
In reading about the study, however, I was surprised to learn that we've all probably been doing our Kegel exercises wrong – unless we learned them personally from Dr. Arnold Kegel.  These exercises actually serve two purposes: they help relieve stress incontinence (if you pee when you laugh or cough, do your Kegels), and they help women achieve vaginal orgasm.  Kegel, it seems, was pretty sure that to be effective, his exercises should be done "against a resistance." This part of the Kegel puzzle seems to have been largely forgotten, however, so they're often taught incorrectly – unless, of course, you own a pre-2004 Sporty.