Sharing the (chrome) love, part 1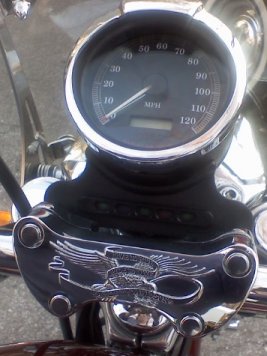 Thought I would just show off the new configuration of my speedometer. I've never been crazy about the black, pebble-textured speedo housing. And, we found after we put the pullback risers on that the speedo was sitting at an angle where I could barely read the speed and couldn't read the mileage at all. So a new configuration was needed.
Steve turned the black housing around so that a bend in the shoulder area would put the speedo at a better angle. He switched out the original black handlebar bracket for a chrome "Live to Ride" version, and bought the neat chrome bezel as well. The problem was, the black housing was supposed to lay on top of the chrome L2R bracket, and when it did, it covered part of the eagle design. Steve's solution was to bolt the speedo housing to the back of the chrome bracket rather than the top.
The whole thing required a little fabrication on the housing as well as a re-setting of the lights that go across the shoulder piece, and some further noodling to figure out how to show the entire eagle design. What's neat about it is that the black housing really fades into the background, while the chrome bezel and bracket kind of pop forward, visually. I'm not sure I've accurately described it, but the whole setup looks really neat. The L2R bracket matches two other L2R items I have on the bike.