Ready for Spring! Top 5 preps for that first ride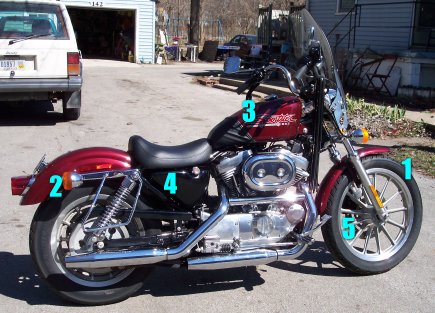 WOW – we had a terrific membership meeting with the Des Moines HOG chapter last night, in which over 100 people were in attendance including 24 new members. (Special welcome to Hollie, Marla, Denise, and Susan/Coyote and her hubby Paul!) That's twice as many new members as the past two months. (IowaHarleyGirl, where are you?? )
One of the items on last night's agenda was a report from the Big Barn Harley-Davidson service manager, who gave us a short list of the five most important items to check on the bike as we get ready to ride this Spring. Certainly this info is helpful to all riders, so I thought I'd share it here with thanks and credit to Tom Reed for sharing his expertise!
Check these items before your first ride:
1. Tire pressure. The single most common reason for tire failure, says Tom, is inadequate tire pressure.
2. Indicator lights. Make sure your signal, brake and headlights are functioning, and replace non-functioning bulbs.
3. Gasoline. "Old gas" is bad, m'kay? Especially for carbureted bikes. What's old? Tom says gas starts to deteriorate in the tank within three weeks. If your gas has been in the tank since last fall, time to siphon it out and replace it.
4. Oil. Start and run the bike for a few minutes, then check the smell of your bike's oil. If it smells like gasoline, you've got fuel leaking into the oil tank and the oil should be replaced. Tom says an oil change is likely a good idea anyway – your owner's manual probably recommends an oil change every 3000 miles OR every 3 months. That includes time the bike's been sitting in the garage, waiting for good weather.
5. Brake pads. Look for wear and replace if needed. Some groaning/squeaking of brakes is normal on the first ride of the season, but the noise shouldn't last. If it does, time for a service call.