Pay because you ride: The Iowa Legislature hates bikers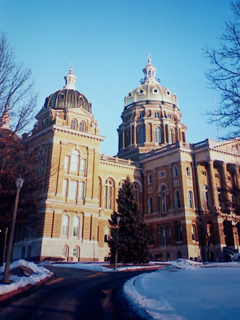 In researching a state legislative bill on a non-motorcycle-related topic, I found out that last year's Iowa Legislature introduced two biker bills that could come back for debate this year: one was the obligatory helmet law, requiring motorcycle riders under the age of 18 to wear helmets (HF465). The other proposed a "safety helmet surcharge" (appropriately, HF666) on motorcyclists – $5 or $10 per year of license validity.
That's right, a tax on being a biker.
I was livid. For years the argument for requiring helmets on all bikers was that "the public" shouldn't have to pay their medical bills if a rider has a helmet-less accident and happens to be uninsured. ("Why should we have to pay for your stupidity?" has been the cry, as if helmets were the key to preventing all death or serious injury on a motorcycle.) So, our state apparently wanted to charge $5 extra per year of license validity if the biker declared s/he and all passengers on her/his bike would always wear helmets. $10 per year if they wouldn't make such a guarantee. Point being, as a biker you were going to pay extra whether you wore a helmet or not.
This is absolutely an unfair proposal that singles out one group of legal vehicle operators for no reason. Except for this: the state of Iowa offers a deep discount on vehicle licensing fees to people who drive pickup trucks. In the old days, when pickups were used as farm vehicles, lawmakers of this largely agricultural state thought it would be helpful to offer this price break to poor farmers who couldn't afford to pay the standard annual registration fees on their "working vehicles." These days, of course, Iowa's urban areas are large and growing. All kinds of people drive pickups for all kinds of purposes – even as family vehicles. But the state doesn't have the balls to reinstate the normal registration fee because the ag lobby is still very powerful. So they're looking for any and every way to force other vehicle owners to cough up more money to make up the difference.
Which is chicken-shit, especially because bikers get the short shfrift when money goes out, too: another bill in the 2007 session would have offered tax credits to individuals who purchase "fuel-efficient vehicles." But guess what: motorcycles, which typically get anywhere from, what, 30-50 mpg? – are excluded. So bikers get hit with the helmet surcharge, but they don't get the benefit of the tax reduction for riding a 40-mpg vehicle. Nice.
When you put this with the disturbing trends in road repair I reported on last summer, it adds up pretty quickly: Iowa legislators view bikers as some sort of expendable cash cow. We don't deserve a smooth ride on the highway, we don't deserve help with medical bills if we are uninsured (even though non-bikers who do stupid things probably do), we don't deserve the tax credit for our fuel-efficient bikes. But we DO deserve to be stuck with an exhorbitant fee tacked on to our driver's license just because we choose to ride, and we DO deserve to have our freedom of helmet choice taken away.
Four words to sum this up: Thank God for ABATE.
And two words for the Iowa Legislature, but I'll let you guess which two they are.