A few quick links for winter reading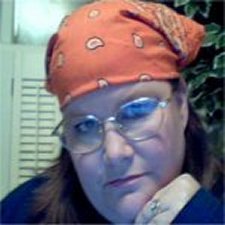 Okay fellow winter-state bikers, are you going absolutely BONKERS yet, waiting for spring?? Seems we have had our usual January weather all throughout December – so I'm hoping we'll get a break here one of these days.
A few quick thoughts to pass along:
I wanted to be sure to share a link I found recently – the photo at left probably shows that I haven't really learned the proper technique, but the link is a humorous and instructional article about the best way to tie a doo-rag out of a bandana. The photo also shows that I look better with glasses than without, unlike most people.
As predicted, I'm hearing more rumblings that suggest our state legislature will be pursuing a mandatory helmet law this year. It frankly pisses me off considerably – I am simply trusting that ABATE will fend off the nannies for us again.
This site was recently included in a list of motorcycle-related blogs in an article at FindingDulcinea.com, an internet-based library of resources on a wide variety of topics. A happy little blurb about BCN suggested that it's "regularly updated," which prompted me to get in here and write an update.  
Late last year I had a lot of trouble with the files that create the color scheme and layout of this site, and I lost the file that contained links to other biker chick blogs. I'm working now on rebuilding that list, and happily found a new blog to add to it. Please take some time to check out Karen's Riders on Adventure site, and look for the full list of biker chick bloggers coming back very soon! (Update: I've restored the Biker Chick Blogroll and have added several new sites! Check them out below right!)
Finally, here's a cool story about a 70-year-old woman in Florida who's embarking on a four-month motorcycle tour to promote awareness about breast-cancer screenings.  The self-proclaimed "Vagabond Granny" will travel 8,000 miles across the United States on her 1996 Yamaha Royal Star. Her trip is sponsored by the United Breast Cancer Foundation in New York.