Ape hanger bars on my Sportster!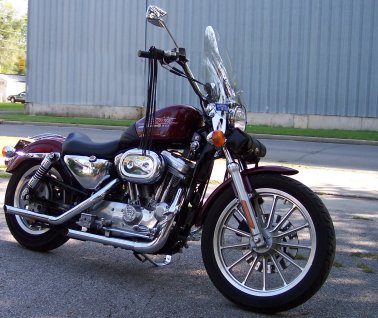 Okay so funny story… on Saturday, 2 days before my birthday, we're going on a ride down to Indianola to the Route 65 Harley open house. I back my bike out of the garage, pull the choke out to warm it up… everyone's standing around waiting for me as usual. Once the Picky Bitch is warmed up, we saddle up and Steve, Kristin and Hollie and I all head out. I notice that my bike felt kind of funny – different, but not sure how… when I turned that corner off the side street, it felt like my arms were "going wide" to make the turn. And then going down Holcomb St. toward 2nd Ave., my arms felt like they were in a different position. One more turn onto 2nd Ave. and I know something's different, but still don't know just what. So as I'm heading down 2nd Ave., I notice my arms are actually sitting higher… and my hands are actually parallel to the ground instead of at an angle… I'VE GOT NEW HANDLEBARS! 
Yep, Steve had bought and installed new ape hanger handlebars for my birthday, and it took me THREE BLOCKS to figure it out!! LOL Since I was in the lead I took everyone into a parking lot where I stopped and got off the bike and gave Steve a big hug and kiss… I hope he knows how much I really like them, they are really comfortable! Now all I need to go with them are the Kuryakyn ISO Grips (with Throttle Boss, of course)… and maybe a chrome belt guard… oh! and today up at Big Barn HD we saw a neat seat – the Reach Solo Seat for Sportster… yeah, kinda like getting new drapes – now the living room furniture doesn't match!