Estrogen Ride 2007: One Night in McGregor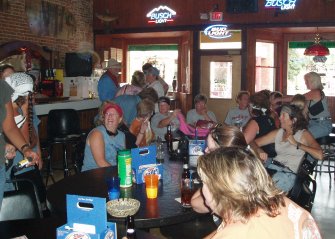 What happens when 30-plus high-spirited biker women go bar-hopping in a small town?
Tables get pushed together…
music cranks up…
beer gets bought…
dancing ensues…
friendships are forged…
the local men try to crash the party…
ask us if we're a lesbian biker gang (we tell them YES – LOL!)…
more beer gets bought…
the music cranks further…
more beer…
more music…
some of the locals are following us from bar to bar… are we THAT much of a spectacle?? (YES!)
locals trying to dance with us… we feed them to the crocodiles…
more dancing…
… then slowly start trickling home… a slow mosey to the convenience store for snacks… why's it so friggin' BRIGHT in here?
And the next day comes around far too soon!
Needless to say, we all had a great time partying in McGregor on Saturday night. Josie's and Crazy Carl's received the brunt of our "Surge the local economy" program, as they were within easy walking distance of the motel. I'm sure they are still wondering what the hell happened!