Ride to LeMars & Blue Bunny Visitors Center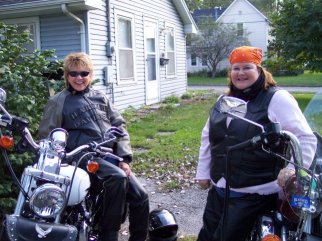 It was a beautiful weekend here in Iowa and here are two biker chicks who took full advantage of it!  After our successful trip to Albert Lea last summer, my friend Susan and I decided we needed to plan another overnight trip for this year. We had originally planned to visit Galena, IL, but the day before the trip we checked the weather and learned that "they" (whoever "they" are) were predicting rain for that time period in that locale so we switched gears and decided that it looked like it was going to be warmest over in northwest Iowa. So we decided we'd ride the Loess Hills Scenic Byway from about the middle of the western border of the state up to Sioux City, and then spend  the night in Le Mars.
We had both taken Friday off from work so we met at my house and left about 9:30 a.m. We went west out of Des Moines on Highway 6 then picked up Highway 44 at Panora. From here, 44 is designated in Iowa as the Western Skies Scenic Byway. Now Susan and I are not "let's get there" kind of people. We are more "let's take our time getting there" people. So to say that we stopped frequently would probably be an understatement, but generally speaking, we stopped frequently. We passed through several lovely small towns, including Adel, Redfield, Guthrie Center, and Harlan, and finally picked up the Loess Hills road in Logan.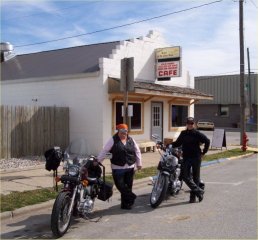 The Loess Hills region of Iowa is beautiful, and fall colors have not quite peaked here so everything is just barely turning red and gold. I was a little disappointed that we didn't see anything terrain-wise that really surprised me… but, I think if we had explored the State Park or the western side of the hills, we would have been better able to appreciate what makes this region so unique. 
We rode north keeping to the designated scenic highway, which zig zags its way through the hills. We stopped for lunch at the Old Home Fill'er Up and Keep On Truckin' Cafe in Pisgah (immortalized by C.W. McCall in the Old Home Bread commercials) and then went on to Sioux City. We took Highway 75 north through Sioux City to the Harley dealership, where we stopped to shop and make phone calls home, then continued on up 75 to Le Mars at about 6 p.m.
We checked into a motel and walked next door to Uncle Albert's Pub & Grille, where we had a very good dinner and a couple drinks. We got a good laugh out of the fact that it had taken us 8 hours to travel 250 miles!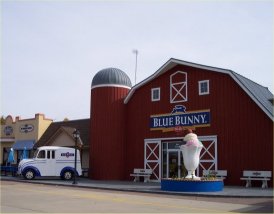 Slept in Saturday morning and after getting the bikes packed we went to see the Wells Blue Bunny Visitors Center. Le Mars bills itself as "The Ice Cream Capital of the World," because the Wells Blue Bunny company produces more ice cream in their Le Mars dairy than any other company in any other location in the world. They've built a very nice museum which tells the history of the company and the history of ice cream, and includes a 3/4-scale model of part of their production line so you can see how the products move around on the line. The facility also includes a full-service ice cream parlor, where we learned that ice cream tastes even better when it's fresh – meaning, you're eating it right next door to where it was made and it hasn't been frozen, thawed, re-frozen/etc. at the whim of your freezer's defrost cycle.
We spent about an hour at the museum and then took off to the east on Highway 3, where we passed through more lovely small towns like Cherokee, Ida Grove, and Carroll. (Note to self: need to return to Ida Grove with the family to visit the COOL Pizza Hut with outdoor patio that overlooks a lake!) We picked up Highway 44 again at Panora, which took us straight back into the Des Moines area in our northern suburb of Johnston. In all, we traveled 460 trouble-free miles with beautiful weather – we are going to have to come up with a name for these little overnighters!