Sturgis 2006: Day 3, In Sturgis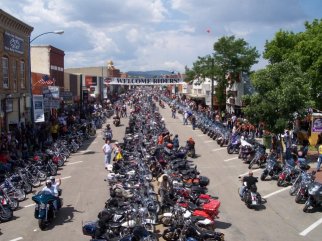 Monday, August 7 was our first trip down to Sturgis itself. Our friends, having stayed in this same motel last year, had found a route into Sturgis that was longer but had less traffic than the obvious I-90 path, so we took Hwy 212 out of Belle Fourche to Hwy 79, which took us straight past Bear Butte and deposited us at Thunder Alley where the Rat's Hole Custom Bike Show would be held on Friday the 11th. Once we got to the road going into Sturgis alongside Thunder Alley, the traffic slowed down to stop-and-go for the mile or so on into town. We didn't even try to park on Main Street, but instead parked in front of a house about two blocks away and walked in. The bustle and noise were awesome – yes there really were that many bikes!
I have to add here that Steve was making this trip with a disability – he had pinched a nerve in his back and standing/walking were barely possible for him. (Riding on the bike, however, was quite comfortable.) He was able to walk about ten minutes at a time and then would have to sit or at least find something to lean on that he could find a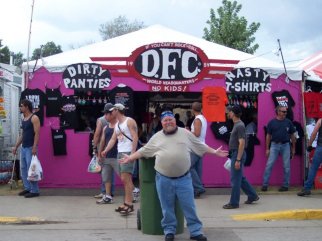 good position to relieve the burning in his hip and leg; I'm honestly not sure how he did it – he dug down into that reserve of stubbornness, I think, left over from his Marine Corps days, and just did it.
One of the first things I did was pay $5 for the opportunity to go up on a high platform and take some overhead pictures. I had had this idea myself when we used to go to the Street Rod Nationals – rent a scissor-lift and invite folks to pay for the privilege of going up to take overhead shots – so I thought it was in fact a great idea and my pictures turned out great. After that we just walked up and down Main and Lazelle Streets, going into vendors' tents and stores at will, pausing to rest on benches when available, and snapping pictures of bikini-clad girls whenever possible without risking getting slapped. What we noticed, after only a short time of this, was that lots of the vendors were selling the same merchandise. (And, as usual, they didn't have a lot of selection in plus sizes, especially for women. The men could find big t-shirts without much problem, but I saw NOTHING for women over a size 2x, and those were cut small. So, it looks like the suppliers of this merchandise still refuse to acknowledge that larger women ride and love motorcycles and biker clothing. I wasn't surprised, but I was disappointed. I was able to buy shirts for all the small women on my souvenir list, but I couldn't find one that fit me, a 3x.)
A few of the vendors caught my attention… the Nasty-T-Shirt shop where I saw these favorites: "I'm not a gynecologist but I'd like to take a look," "Fuck you, you fucking fuck," and "Nice Trailer, Pussy" and the place selling all manner of HD boots… I should've tried them on and bought a new pair. I'm not sure why I didn't. There was also a shop where folks were selling hand-tooled, hand-dyed leather patches – one of them had that great "We Can Do it" Rosie the Riveter design on it (I have an embroidered patch with that design). Also, I gotta hand it to Hot Leathers – they have a huge presence in Sturgis and all their booths with lots of leather gear, shirts and jackets. I bought a nice vest that fits me a lot better than the one I had and doesn't look as dorky.
At one point we decided to duck into the Sidehack covered patio for lunch and a beer, and while we were in there it started to rain. Lucky us, it was time to start the wet t-shirt contest anyway, so we stayed at our lunch table and watched the festivities. The girls looked like they were having a lot of fun – one of them I thought might've been a "ringer" hired to get things started, because when the DJ asked her if she'd participate she agreed without even a whimper of protest. Anyway, it rained really hard for about 2 hours as we sat there enjoying the show and our lunch, then it was time to press on. We stopped at a few more vendors on our way back to the bikes, then arrived at our parking spots to find that my poor helmet (hanging as it was from the bike) was full of water! Oh well, by this time it was really hot out so the dampness felt good.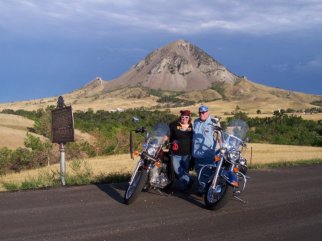 We took the same route home past Thunder Alley, up 79 past Bear Butte. We stopped at a historical marker near the Butte to take a few pictures, then headed back in to Belle Fourche under the threat of more rain. After dinner we talked about the fact that, overall, we were a little disappointed – was it really just a bunch of vendors and bikes trying to move down Main Street at a snail's pace? Maybe we were just crabby because Steve was in pain. And, of course, if someone had asked us "Well, what were you expecting??", we wouldn't have had an intelligent answer. At any rate, we decided that we'd only go back into town on Friday, for the custom bike show. The rest of the trip would be scenic rides, starting with the day-long adventure down to Mt. Rushmore, planned for Day Four.