Sturgis 2006: Day 4 – Mt. Rushmore, Iron Mountain Road, Custer State Park, Needles Highway
This was going to be a big day. I had spent a lot of time at home, prior to the trip, planning a scenic trip for this day. I knew it totaled about 150 miles, but I couldn't be exact. I had no idea how many hours it would take to do the ride as I'd laid it out, but the route I had selected included Mt. Rushmore (via Deadwood), Iron Mountain Road, Needles Highway, and Custer State Park Wildlife Loop. All of these had been suggested to me by friends on the Internet, but I had never traveled the roads myself so I didn't know exactly what to expect. The only things I knew were that IMR and Needles Hwy were supposed to be very scenic, with lots of twisties and several switchbacks and tunnels. I was looking forward to the challenge of the twisties.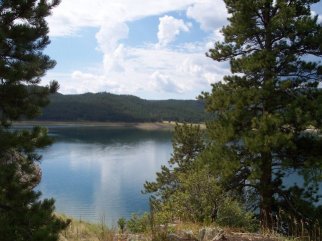 We set out in the morning from our motel in Belle Fourche. I was the one with the plan, so I was in the lead. Steve and Garry were going along for the full ride, but Shirley was going to spend the day in Deadwood, gambling. We took Highway 85 south out of Belle Fourche down to I-90, east briefly to pick up 85 South again and down into Deadwood. I must say I thought that last stretch of 85 was breathtaking – a wonderful sweeping curve down into town with pine-covered hills… it just felt very different (already!) than the cornfields of the Iowa countryside. We paused in Deadwood to make sure Shirley found a safe parking spot (there were thousands of bikes there that day as well) and bid farewell for the day, then followed 85 South til we picked up 385 South. Paused for a bathroom and photo break at Pactola Reservoir – kind of funny, because being in the lead but unfamiliar with the area, I pulled into a nicely-manicured turn-out that had a bathroom building with one mens' and one womens' stall. There were lots of bikes parked there, and lines for both stalls. Garry mentioned, as we were getting ready to go again, that just a hundred yards up the road was a really nice, full-service visitor center. He and Shirley had done last year exactly what I'd done this year – pulled into the first available driveway, not knowing that more and better services were available just around the bend. Back on the road, we took 385 South through Hill City – a slow ride down Main Street as there were ALSO lots of bikes there – and took a turn-off for Mt. Rushmore at Highway 244. This road was beautiful as well, and we soon came upon Rushmore.
Mt. Rushmore is billed as a national memorial. The last time we were here was in 1993, and the surrounding facilities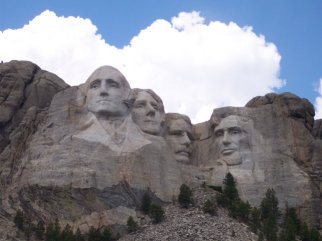 had changed quite a bit. For one thing they had built a three-level parking garage where before there had only been a flat parking lot. They had also built up the entrance and walkway that lead to the viewing area, and there were now concession stands (beverages and ice cream) just outside the gift shop and restaurant. These things hadn't been here in '93. We walked up to the viewing area and gazed at the monumental carving – I believe our Native Americans consider it a disgrace to put the faces of men on Nature's mountain, but I for one feel it is quite beautiful and a moving tribute to the men who lead us through our Revolution, quest for independence, Civil War and pioneering of the West. We had been in the viewing area for about 20 minutes when we were treated to a "mountain rain shower," so we ambled back down to the Gift shop where I purchased some souvenirs. We paused under a canopy to check the maps and it began raining in earnest at about that time. When we thought it seemed to be slowing down we headed to the parking garage, where our bikes and gear were dry. As we were suiting up in the rain gear the skies opened up big-time for about 10 minutes. When we eventually pulled out of the garage, the sun was out and it was extremely humid.
We traveled just few minutes east into Keystone, where we picked up Highway 16A, Iron Mountain Road. Heading south, the road quickly became one of the most beautiful and scenic I'd ever seen. There were sweeping curves and tighter S-turns to the left and right – with each one I would consciously set my line and dip the bike into each apex, only to quickly set-and-dip for the next curve. Some of the curves were very tight switchbacks which to my relief had much lower speed limits posted, as I'd been worried I might be too cautious and hold up traffic. The first of the one-lane tunnels came upon us and, because there was so much traffic both directions, it took us a little time to wait for the oncoming bikes to get through and give us an opening. The tunnels themselves are only about 14 feet wide and high, cut into the rock of the hill. Mt. Rushmore, now several miles behind us, is actually perfectly framed in one of them. What's tricky is that the entrances to them are often at the end of a curve in the road, making them 'blind' – meaning, if you're approaching, you can't see that someone is in there coming out from the other direction. Extreme caution is essential.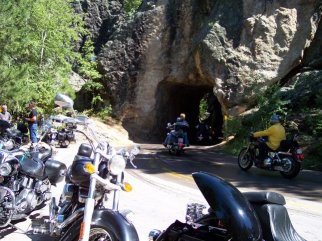 After one of the tunnels, we pulled into a turn-out to take a break and some pictures along with several other bikes, so we were on the side of the road just beyond the tunnel opening. The street was still wet, and the road was a blind curve on the downhill into the tunnel. I was getting the camera out of my saddlebag when I heard a skidding-on-pavement noise, and I looked up just in time to see a VRod slide right out from under its rider and skid to a stop on its side, and the rider go tumbling down a short embankment. I gasped, and he jumped right back up shouting, "I'm alright, I'm alright," scrambling back to his bike in the road and trying to lift it. We looked at the people coming behind him down the road, expecting at least one of them to be going too fast and crash into him. Fortunately everyone was paying attention and it only took him a couple minutes to get the bike re-started. He was on his way within moments, and I couldn't help but think how lucky he'd been. He hadn't appeared to be injured, though he was wearing a tank shirt and shorts and no helmet. And, no one wrecked as he worked to get his bike re-started.
We had lots more beautiful scenery and twisty roads on the rest of IMR, then soon found ourselves entering Custer State Park. We paid the park usage fee and journeyed down the Wildlife Loop where we were hoping to spot some buffalo. A few miles in we hadn't seen anything except a poor old jackrabbit who I thought was going to commit suicide under my bike. A bit later we passed an area where several bikers had stopped to feed and photograph a couple of wandering burros, but we kept going, figuring a trip to our local petting zoo back home would give us our burro fix if we felt the need. Finally, we rounded a curve and there was a large, wide-open area, with maybe 100-200 buffalo grazing and resting. Lots of bikers had pulled over here, so we did as well and took several photos. (We commented later how convenient it was that the buffalo had gathered at the point in the park where the road was plenty wide for all that pull-over traffic… and theorized that perhaps when the park closed, they all went back to their bunk house for s'mores and ghost stories while they waited for the next days' shift to begin. I went so far as to suggest that perhaps they weren't buffalo at all, but in fact people in zip-up buffalo suits, trotting out for the tourists but returning to their homes at night. Oh it all just seemed far too convenient.)
We left the buffalo behind (and by the way, the song is correct: you CAN'T rollerskate in a buffalo herd) and found our way out of the park and back onto 16A, which we took briefly west and then turned left on 87 North, the Needles Highway. Needles is so named because of the sharp, pointed rock formations that are visible from several points near and far from this road. It's equally as beautiful as Iron Mtn. Road with more tunnels, S-curves and switchbacks to keep a rider focused and challenged. We paused for a break at one particular turnout that had a beautiful view of the Needles formations, then continued on to a point where we were actually on a pass (with one-lane tunnel) through the needles. There was a large turnout area where you could stop to photograph these very unusual formations. It was extremely crowded, and it was at that point that I began to feel like we were really missing a LOT because of the traffic. We stopped for a few pictures of one formation called Eye of the Needle, so named because a long narrow hole in the rock looks exactly like the implement it's named for. I noticed immediately – as I'm sure others have before me – that if you take a few steps to the left and take a similarly-angled photo, the rock formation actually looks like female genitalia. (I've included both pictures, one of the Eye of the Needle and One of Vulva Rock, for comparison purposes.)
Our conversation had turned to noting that after about three hours of managing twisties, switchbacks, S-curves and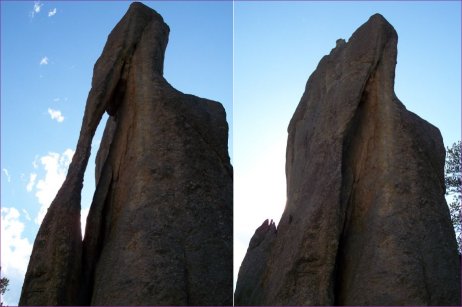 tunnels, we were beginning to get tired of "working so hard" at having fun – make no mistake, we were on vacation, but it IS mentally exhausting and physically challenging to ride so many miles of these kinds of roads in such heavy traffic! This situation is made even more challenging by what the map doesn't show you: that all these twists and turns are often on an uphill, followed by an immediate turn to the downhill. It required far more "management" and thinking than I had anticipated to ride the roads safely. So by the time we left Eye of the Needle we were anxious to be on the way home. I was calculating that we had about 80-some miles to go, and it was already about 5 p.m. – I hadn't thought we would be gone that long!
We re-traced our route on 385, stopping for gas in Hill City where I refused to wait in line and ended up using the men's restroom, onto 85 then 90 and 85 again into Belle Fourche. I swear, that last ten miles from I-90 to Belle Fourche was excruciating! I had never wanted to be at a destination so badly in my life! We pulled into the motel parking lot sometime between 7 and 7:30 – Shirley had returned safely hours earlier from Deadwood. Mileage for the day was 216 – a good deal less than the two days we'd ridden to get to Belle Fourche in the first place, but far more physically demanding than those two days! A late supper and into bed early this night, as Devil's Tower awaited us in the morning.