Sturgis 2006: Day 5, Devil's Tower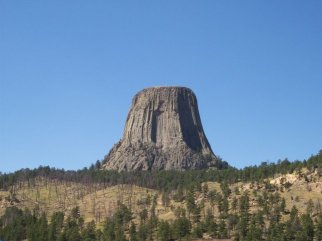 Well if it's Wednesday of Sturgis Rally Week, it must be time to go to Devil's Tower. That's because Wednesday used to be "No Panties Wednesday" in Hulett, WY, which is just east of Devil's Tower, so of course everyone would stop in Hulett for a view of no panties and then press on to Devil's Tower. For whatever reason, Hulett doesn't officially condone "no panties Wednesday" anymore, but everyone still goes to Devil's Tower on that day. And, despite advice from several online friends encouraging us to go to Devil's Tower on any day other than Wednesday, one member of our party said, "You HAVE to go on Wednesday – everyone goes on Wednesday." So on Wednesday, we took off from Belle Fourche, headed west on Highway 34. In just a few miles we approached a "Wyoming Welcomes You" sign, so of course we had to stop for a photo… didn't pause long, and soon 34 turned into a very nice scenic road with lots of great sweepers. Unfortunately, it was again such heavy traffic that enjoying the scenery was nearly impossible. The first sign that Hulett might be crowded was the fact that motorcycles were lining both shoulders of the two-lane highway a half-mile outside of town and all the way in. We arrived in Hulett and rode through on the main street – stop and go just like going into Sturgis had been on Monday, only it was a smaller and tighter space so it felt more claustrophobic. I didn't notice "no panties" anywhere – maybe the guys did, they were probably on the lookout – but we got through Hulett after nearly losing our leader and shot out the other end, pressing on toward Devil's Tower. 
Again, traffic. Holy crap, you can't believe the traffic! We arrived at the Devil's Tower Trading Post, noting that the day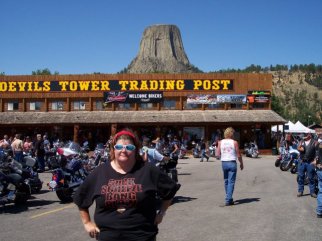 had really heated up while we were en route. And there behind the building was that fabled formation ("gonna build… gonna build a mountain in my living room…") … looking a little like a giant nipple caught in a tourist trap, hiding as it was behind a souvenir shop… but still, very damned impressive. Did I mention it was hot? At least, I was over-heated and cranky by the time we arrived… spent a little time shopping in the souvenir store, where I learned that DT is actually a failed volcano eruption – a giant bubble of seering lava that attempted to erupt, but 'froze' before it bubbled over, within the earth… and the earth around it eroded away, leaving the "tower" we see today. Of course this didn't just happen last week or last century, it happened millions of years ago… and in fact, the Black Hills area is the result of erosion so it's not too surprising to learn that's how the tower was formed. Still, it's almost incomprehensible to think the earth used to be that much TALLER, and that this tower was in fact a column inside the earth. As a tribute to this monumental achievement of nature, I selected a couple of t-shirts and a trinket for my daughter, and joined the rest of our small group for lunch across the road in the campground restaurant.
One thing we didn't do that I now wish we had, was pay the Park Usage Fee and ride the road that actually goes up TO the tower and around behind it. I'm not sure what's back there – maybe a private supper club or something – but for whatever reason we elected not to do that. Leaving the area felt like the thing to do at the time, though to me it also felt premature. This was the time in our trip where I felt the strongest that we were just bouncing from place to place, not really able to enjoy anything to its fullest but just going there to say we'd gone there. It was the day that made the strongest case for returning to the Black Hills at some other time of year.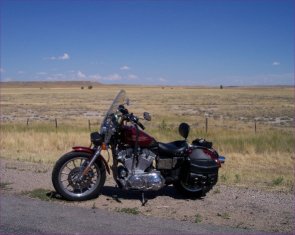 At any rate, we left the Tower and took a very different route home: instead of going through Hulett again, we turned off just outside of town and took Highway 212 north and east back to Belle Fourche. This route was much longer, but almost desolate as far as other traffic. Easy to feel you could be in a lot of trouble if you were traveling alone, simply because no one would come along for quite some time if you needed help. The views were beautiful and far-reaching, though, and the road also took us through a tiny corner of Montana (another "Welcome" sign to photograph!) where we found a great little convenience store to gas up and take a Powerade break. The last leg of the trip took us straight into Belle Fourche at the north end of town. This day was probably the least enjoyable of the whole trip – by the end of it I was hot, crabby and frustrated at feeling like we were going lots of places but not really being there. Devil's Tower is an awesome sight, no doubt about it – but I didn't feel I'd really seen it. Undaunted, we turned in early after discussing our plans for the next day – a day-long trip to Spearfish Canyon and Deadwood.