Sturgis Days 8 & 9 – Riding Home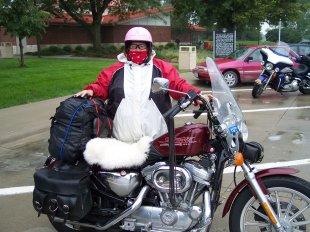 On most vacations, by the time it's time to go home, you're ready. Ready to sleep in your own bed, ready to get the long return trip behind you. We had a slightly different mindset for the return trip from the Black Hills, considering the last two days to be just as much a part of the vacation as the first two had been.
That attitude meant that it wouldn't really be over til we pulled into the driveway. So, rather than pouting about the end of our vacation, we set out for the two day ride home with the thought of enjoying the two remaining days of vacation. It immediately became apparent, upon hitting Interstate 90 on Saturday morning, that this was going to be a difficult mindset to maintain. Why? Crosswind. I never did figure out what the wind speed was that day, but it amounted to constant, insistent battery from the south as we headed east across South Dakota. Maybe 30 mph crosswinds? I'm not a good judge… but I do know that back home, winds at 15-20 mph can be uncomfortable on a lighter bike. Anything higher than that is completely undesirable. And the crosswind in South Dakota on August 12 was a couple notches above completely undesirable.
We left Belle Fourche around 6:30 a.m. and hit our first gas stop (Wall) around 8:30. From there, we stopped very 80-90 miles for gas and to get out of the wind. I gained a lot of knowledge and experience about how vehicles moving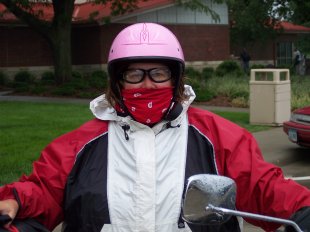 through a crosswind react to each other, and how to handle my bike, but I can't say it was a lot of fun. First of all, it seemed everyone was going home that day: bikes, pickups with trailers, motorhomes, 18-wheelers. Now I'm no speed demon, and the crosswinds in fact made whatever speed you were really going feel like about 40 mph. But there were times, like on inclines, where we would come up behind another vehicle and it seemed logical to pass in the left-hand lane. Passing other bikes was not a huge deal. Passing the pickups with trailered bikes wasn't bad either. But the motorhomes and 18-wheelers – well, there came a point where I decided I just wasn't going to pass them anymore.
Our destination that day was Beresford, SD, a small town about 40 miles south of Sioux Falls – that would make it a 450-mile day. We hit Beresford around 6 p.m. and checked into our motel. What it didn't take us long to figure out was that this was also the motel where several members of the Outlaws motorcycle club (and at least one of their friends from the Sons of Silence), were staying on their way home. This was a little unsettling because the Outlaws had made big news earlier in the week when several of their members had been shot by members of the Hell's Angels in Custer State Park – the very day that *we* had visited the same location. There were no problems from this crew, however. We ordered supper in and actually turned in while it was still light outside.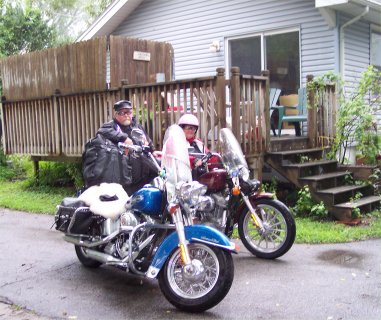 The next morning brought rain, and although we dawdled awhile to see if it would let up, it didn't. One of the Outlaws politely offered to move his bike so we could get out to leave, so we suited up and took off around 9 a.m. It was a day of on-again/off-again rain showers, but it was far more comfortable than the wind had been the day before. One tip we tried here that worked was that we wore our bandanas over our faces to keep from drinking truck wash in the rain and to keep the rain itself from pelting our cheeks. This looked weird but worked very well. Only two gas stops on our last day – one at Onawa and one at Walnut (where we met a guy heading home to Connecticut, who had left Sturgis that morning and hoped to make it past Chicago by the end of the day – our little 250-mile day sure seemed puny by comparison!). Before we knew it we were on I-235: the freeway that cuts through Des Moines, nearly home. I took special care not to have any problems in the last 10 miles of the trip, and we pulled into our driveway around 3:30 p.m. where we were greeted enthusiastically by our 12-year-old daughter.
We had done it! Nine days, 2,073 miles, and a true sense of accomplishment – at least for me. It would be a week before I'd get the bike down to the car wash to remove the trace evidence, but the thrill of having planned and executed this little adventure is hanging in there still.