Sturgis 2006: Day 7, Rat's Hole Custom Bike Show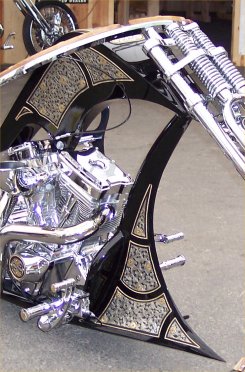 Friday was our last day in the Black Hills, so our plan was to head back down to Sturgis to see the Rat's Hole Custom Bike Show at Thunder Road, and try to be back mid-afternoon so we could start packing the bikes for the ride home beginning Saturday. We took the same route into town we'd taken on Monday, past Bear Butte and entering the rally area just past the Thunder Road parking lot. The day was already heating up by the time we got parked, and would eventually top out at about 111 degrees. But, as they say, "it's a dry heat." Somehow that's supposed to mean it doesn't *feel* as hot as humid heat, but 111 is hot and I don't care who y'are. Anyhoo, parked the bikes and took in some vendors around the perimeter of the building, including an artist who does custom chrome engraving through his business, Chrome Fusion. Steve had considered buying a USMC derby cover from them at one time, but didn't have a good idea of the quality level. After seeing them in Sturgis, there was no question that every piece was high quality and highly custom. I stopped into yet another Hot Leathers tent and this time purchased a nice braided vest that fits me a whole lot better than the patch-leather one I bought a couple years ago. We also browsed a bit in the Bunny Ranch booth… I almost bought a t-shirt that said "There's no business like ho business," but chickened out.
 We paid the admission fee for the custom bike show and took some time looking at all the awesome customs. The show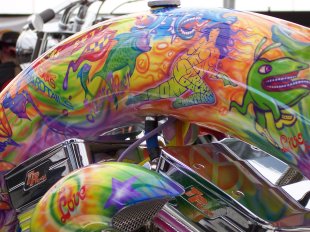 featured 24 of the industry's best bike builders, and artwork by photographers Timothy White and Michael Lichter, bike painter Joe Richardson and multi-media artist Robert Pradke. I especially enjoyed looking at the restored Harley baggers, and there were a couple bikes painted in a 60's psychedelic style that I really liked. Of course, there was something special about each and every bike. We saw the Indian Larry "twisted downtube" bike, and there was one bike that had all these beautiful panels of engraved chrome that looked like leather tooling that drew me in. Steve was very interested in the mechanics of a gear-drive bike, but probably the most unusual bike we saw was one where the frame looked like a crouching skeleton, arms outstretched to create the forks. I enjoyed the 'rat bikes' too, with all the junk attached to them in such a random fashion that it actually looked artful. These bikes are the cream of the crop in the custom world – some of them truly seemed more sculpture than motorcycle.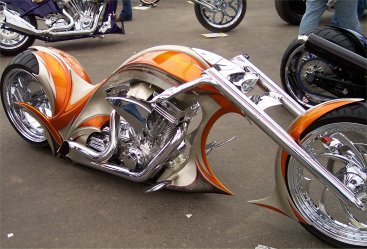 We didn't stick around long enough to see the trophies awarded, but the show was certainly well worth the visit. Around 2 p.m. we said good-bye to Sturgis and headed back to Belle Fourche, where we spent the afternoon figuring out how to pack an additional third of "stuff" into our luggage. One would think this would be the end of our adventures, with only a long and boring ride home ahead of us. As it turned out, there were still a couple of challenges awaiting us for the last two days of our trip.