All Women's Ride July 15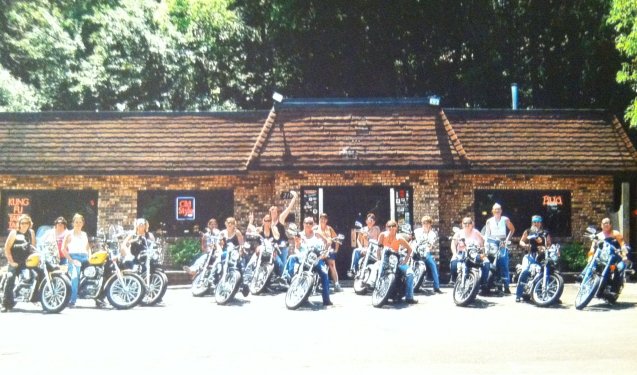 I had a truly awesome day riding, Saturday July 15 – possibly the best day ever for me on the bike.
Last Wednesday night at our local HOG chapter meeting, I noticed a flyer on the bulletin board that just said, "All Women's Ride" – gave a starting time and place, and a couple phone numbers to call for info. This was just the kind of thing I had wanted to do last year, but never got around to doing it – organizing a women's ride. So I decided I would participate, although I was a little nervous about joining a group I'd never met before.
I called two of my girlfriends, Susan (Coyote) and Shirley, to let them know about it and that I was going, and they both expressed interest. We rode in separately to the starting point and we were all warmly greeted by the gals who had already gathered. I was afraid it was going to be a group of women who already knew each other, and that I would feel like an outsider… but I'm glad to report that wasn't the case. The two organizers knew each other, and maybe two of the other women thre, but the rest were like me – just checking it out because they'd read the flyer.
My first notion that it was going to be a "sisterhood" kind of day was when our organizer, Theresa, said she wanted to take a group picture so we need to pull the bikes in closer together in front of the building. Most of us had given ourselves a plenty-wide berth to get turned around in the parking lot, so there was lots of room between bikes, and they were spread out too wide to get them allinto the picture. So, each person would in turn get on her bike and move it closer to the center of the group, and a couple other gals would step in andhelp push it backwards up the little incline. Once parked, she'd get off her bike and go help someone else get situated – it took only about five minutes to organize 20 bikes into a nice group photo.
The plan was to just ride a hundred-mile loop, making a few bar stops along the way. It was extremely hot, upper 90's, with clear blue skies but semi-hazy with the heat. Our first leg was about 50 miles. I'll admit it was pretty damn cool to be riding in that column – we got into staggered formation like it was a given, used hand signals when needed to keep the group apprised of road hazards and upcoming turns, and generally just rode together like we'd been doing it for years.
The firststop was a small-town bar where a few locals were spending their Saturday afternoon… the bartender was good to us, understanding when we just ordered water (and happily accepting our generous tips!) and letting us take over the place for a half-hour or so. Another sign of instant sisterhood occurred here. My friend Shirley, who debated not coming because she is sometimes prone to heat exhaustion, was overcome by the heat shortly after we got insidethe bar. She kind of collapsed onto the cool cement floor, where I and a few of the other riders provided damp towels and encouragement. Theresa, who had been riding two-up with a girlfriend from Florida, told me that her friend was a licensed rider and would be happy to ride Shirley's bike for her ifneed be, meaning Shirley could have her spot on the back of T's bike. I just thought this – and all the concern theyshowed for her – was incredibly kind, given that we'd all just met an hour ago! After fifteen minutes or so she was feeling (and looking) much better, and in another fifteen she insisted she wasready to go on. In all the stop lasted about 40 minutes.
Refreshed with water and sport-drinks, we were then off again to the next stop, and then the next and finally the last. Short stops just long enough to drink a bottled water then back on the bikes. At the last stop, T had arranged for her mother and sister to bring homemade enchiladas which we all enjoyed tremendously.
It was truly a day of the sort of "instant bonding" one could only hope for – a group of very different women from all walks of life, who all shared a passion to ride, just out enjoying the Iowa byways and riding as a group like we'd been doing it forever. I know we were quite the sight to see, a column of bikes all ridden by women – had I been passing our group in a car I would have certainly been astounded… "Hey lookit all the bikes – hey, they're ALL WOMEN!" And frankly, that made me feel just a little bit special!