The Look for Less
There's a show on the "Style Channel" (yes, I'm a woman of many interests!) called "The Look for Less." This is the one where the host shows you stylish outfits direct from the fashion runway, and shows you how to shop for similar pieces and create the same look on a budget.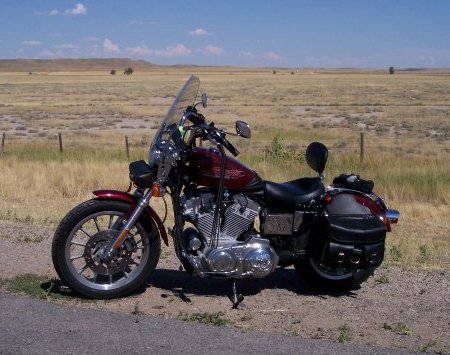 This theme occurred to me while reading my March '06 issue of Iron Works, because I came upon an article where they showed you how to outfit a Sportster for long distance or multi-day riding. As I tallied the cost of this project in my head, I realized that I could do them one better: I had outfitted my own Sporty just last year for this very same purpose, and knew I had done it for a lot less. Now granted, I didn't achieve the exact same look – but I got the same functionality for a fraction of the price. And, my project was even cheaper because two of the items were already *on* my bike when I bought it used. I counted the cost of those two items in my tally anyway, knowing it would still be cheaper than the magazine's version.
The magazine outfitted their Sporty using all "official" HD parts. Mine has a few of those, but frankly, you can save some serious bucks by shopping with aftermarket vendors like J&P Cycles. The total price for the magazine's project, using all HD parts, was $1,985. This included using HD's new fiberglass color-matched hard bags – which, by the way, look beautiful – which by themselves cost $955.
My project, completed last summer in time to go on my first overnight road trip, included the following accessories:
Willie & Max "Wild Willie" saddlebags – $144
Saddle bag supports – $43 (came on the bike)
Turn signal relocation kit – $33
Fender-mounted luggage rack & mounting kit – $69
Sport windshield – $155 (HD brand, came on the bike)
Leather travel bag, duffel style – $10
The total for my project was $454… If you take into account the fact that I didn't have to purchase the windshield or the bag supports (because they were on the bike when I bought it), my total cash outlay was only $256. So take your pick… $454, or $256, versus $1,985. Now I'll grant you, spending more gets you the official HD accessories and those cool color-matched hard bags – fine by me, if that's the look you want. But to me, the "look" I wanted was less sleek and more casual, and it cost me a boatload less.