Civil War mules draw the Divas to Oskaloosa
Over time this blog has become a bit of a "love letter" to my home state of Iowa. As I've said before, I believe that every town in this state has something to recommend it: some sort of attraction, historic marker, great diner, or even roadside oddity. I am always excited to discover something new, and when you add in a scenic route to get there and the company of wonderful people, it just makes for some really great days.
Last summer, a few of the Chrome Divas made a fun discovery of this type when we rode to Oskaloosa and visited the Nelson Pioneer Farm & Museum. Now Oskaloosa is a great destination for several reasons, but the Pioneer Farm is rather special because it gives visitors an up-close, hands-on look at the way life was in the 1800's-early 1900's on an Iowa farm.
This ride took place in late May of 2015. By all accounts our Saturday should have been a wonderful upper-70's kind of day. Instead, we left Des Moines under clouds with temperatures in the mid-50's. I don't think it broke 60 all day. We did hit just a tiny spit of rain, but fortunately that didn't turn into anything major.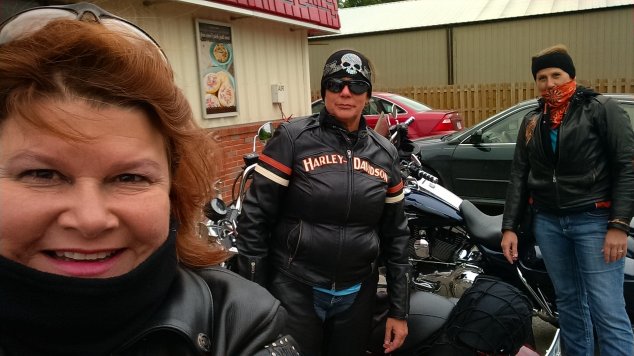 Val had planned the ride for us with the intention of having lunch in Oskaloosa. This was also a great choice for Seven Over, because she was participating in not one but TWO summer-long Scavenger Hunts and needed a couple pictures of herself in this area – one of them being at a "mule cemetery" located at the historic Nelson Farm.
The route to Oskaloosa was (as always in Iowa) beautiful despite the clouds, taking us on a meandering path through southeastern Polk County, then over to the tiny town of Monroe on a very nice (new to me) county road marked F70. From here it was south on Highway 14 to Highway 92, and east into Oskaloosa.
We parked on the square and had lunch at Smokey Row, a local place which we learned was housed in an old movie theater – obvious and evidenced by the presence of the original marquee, which now hangs inside the restaurant and is fully lighted. It was quite the display, and we managed to have some fun with the large statue at the front of the room as well. (We did not similarly molest the proud and regal statue of Chief Mahaska out on the Square. I'm sure he appreciated our modesty.)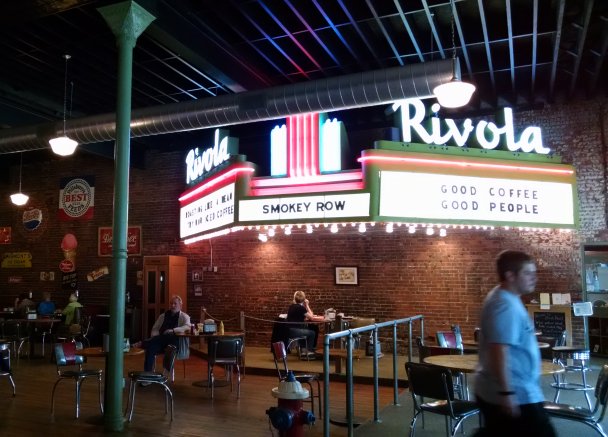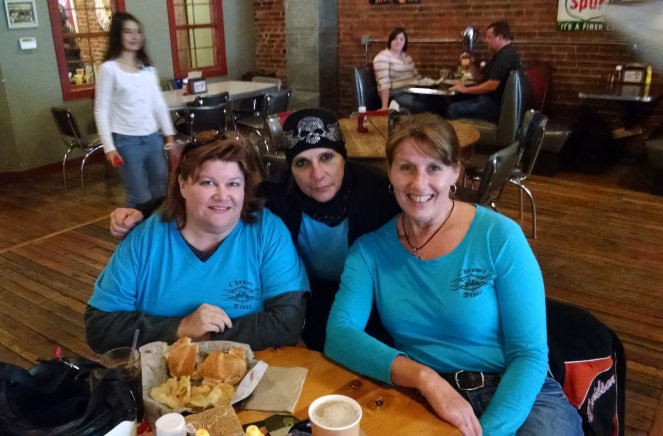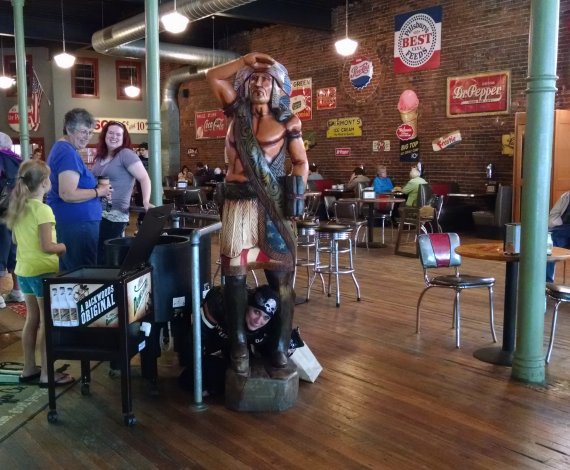 After lunch we set off to find the mule cemetery, which was easy because it was kind of front-and-center at the Nelson Pioneer Farm & Museum property. Turns out, the original settlers of this farm had two white mules, Jennie and Becky, buried on-site in 1888 and 1897 – both animals served in the Civil War and were 34 and 42 years old at the time of their respective deaths.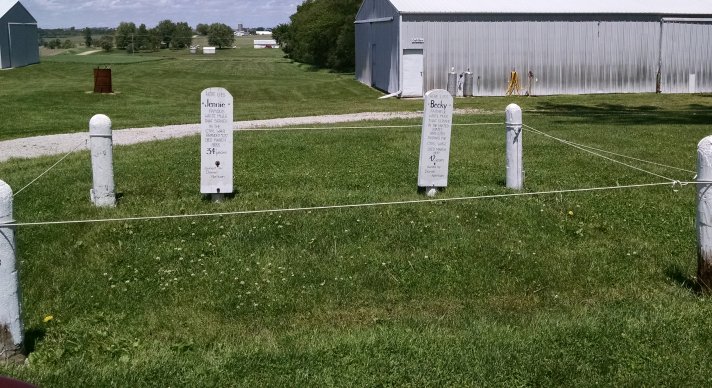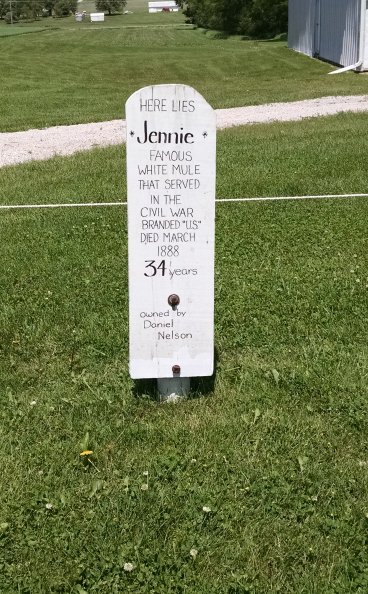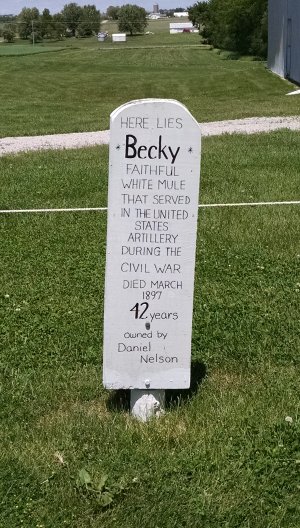 As we were gathered in front of the little burial plot, a person we assumed to be a groundskeeper came up from one of the utility buildings and greeted us. This was "Joe," whose last name I did not get but who – as it turned out – was a former mechanical engineer at Disneyland in California who had had enough of life as an Imagineer and retired to Iowa. Once here, and looking for something to keep him busy, he took the opportunity to do some odd jobs around this little historical farm/museum and ended up in charge of the property care-taking.
Joe was pretty keen on giving three goofy biker chicks the low-down on the mules Jennie & Becky, and invited us to also see the original log cabin that was first built on the property.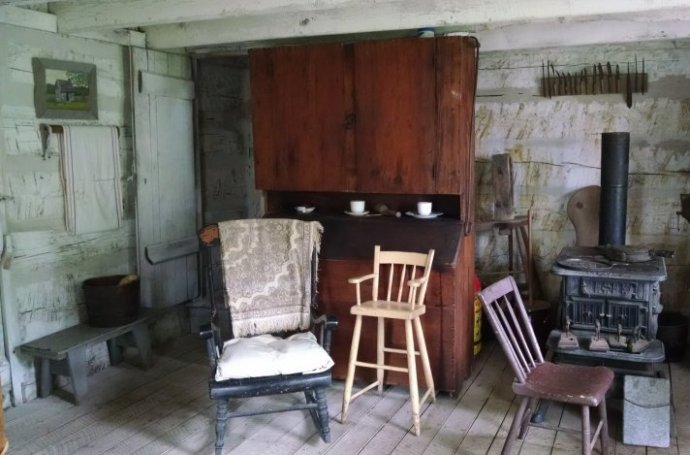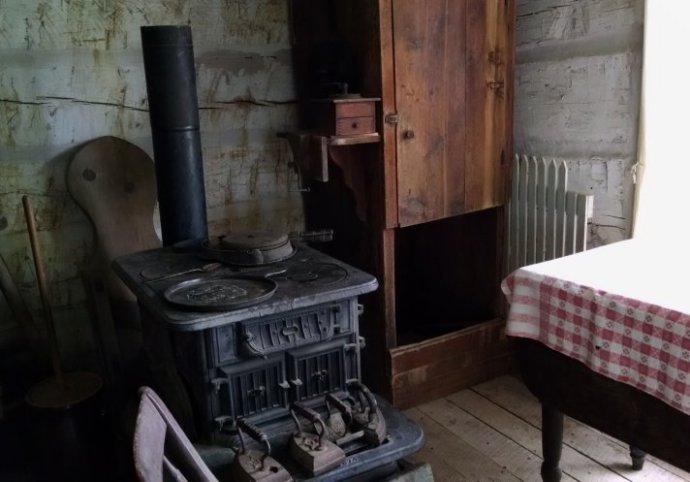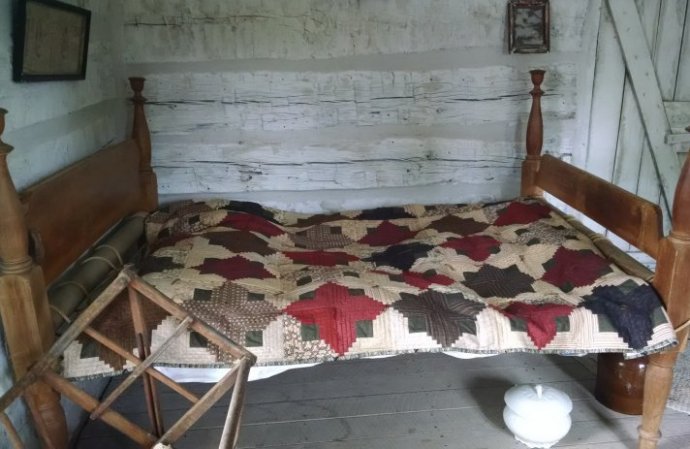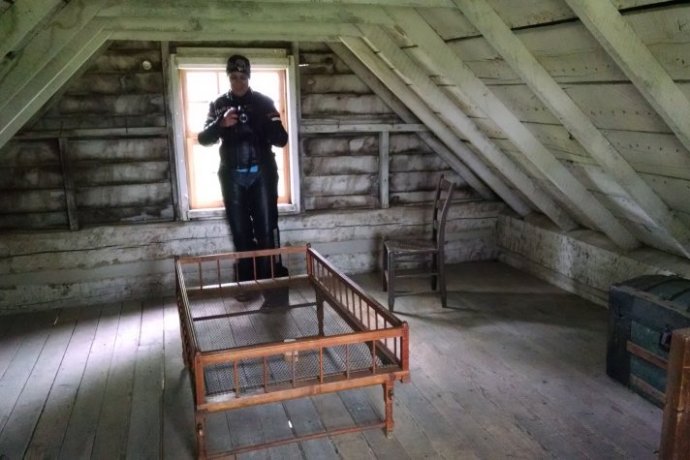 From this point forward, as Joe told us more and more details about the farm, he would mention in passing some other building – and then invite us to see it. So as it turned out, we got a very detailed tour from a person who knew literally every nook and cranny of the place. We saw not just the original cabin but also the larger two-story brick house built in 1853…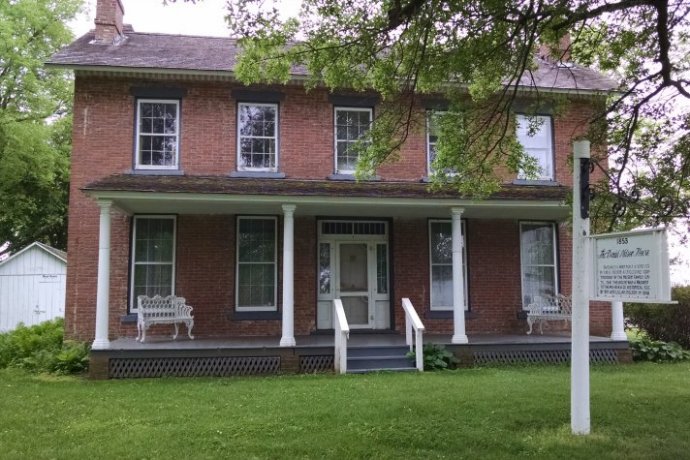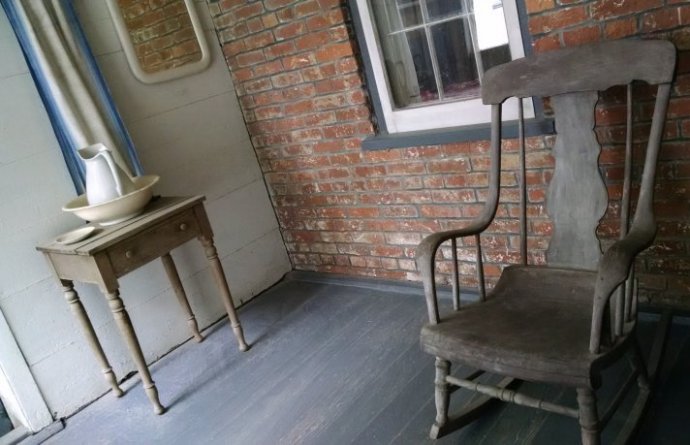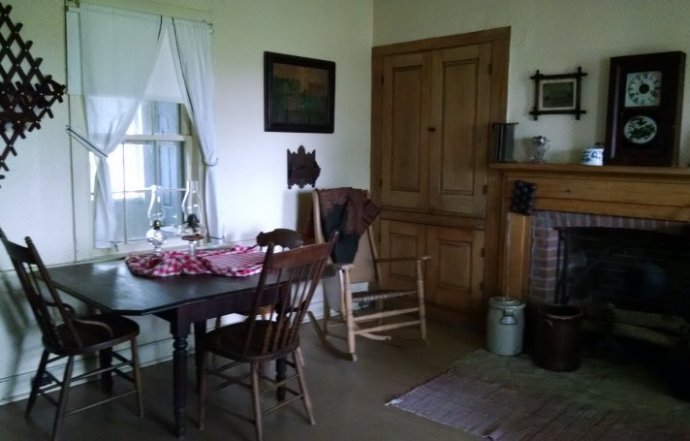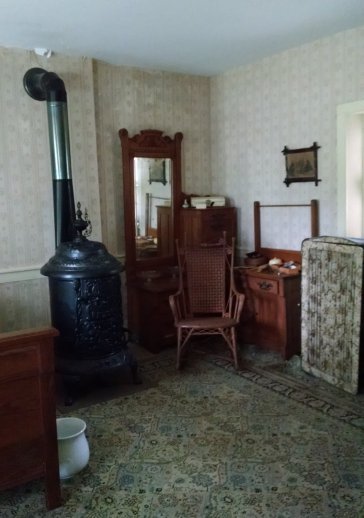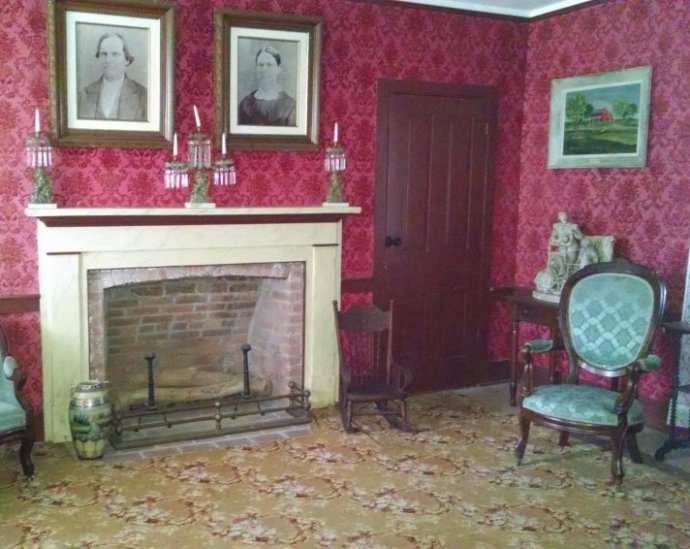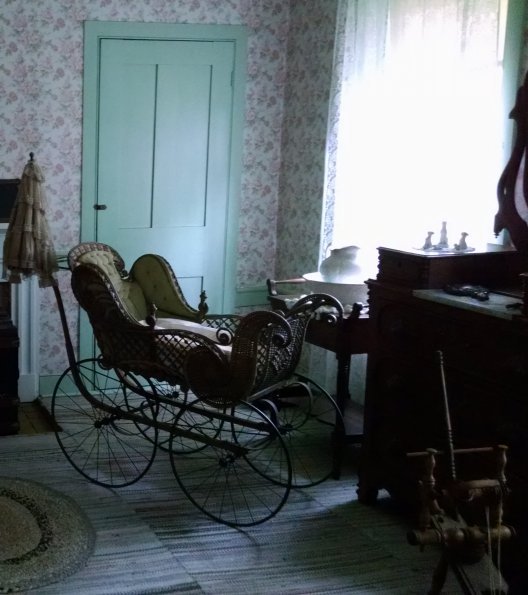 … the summer kitchen and "meat house"…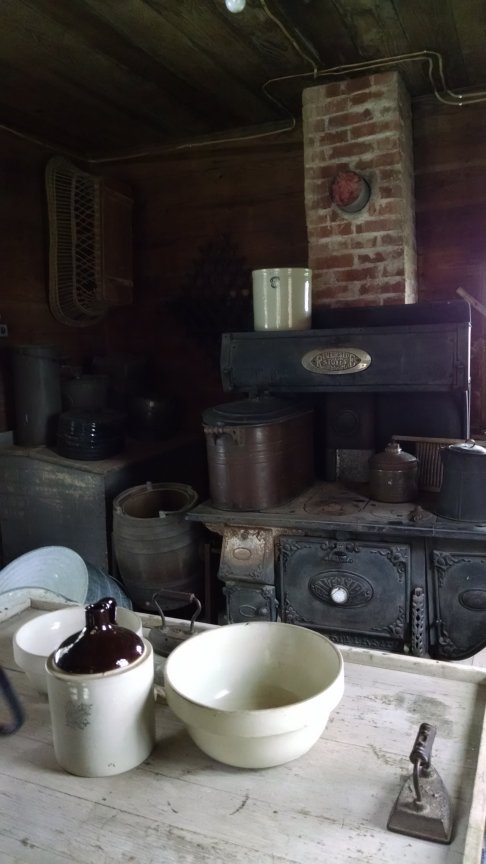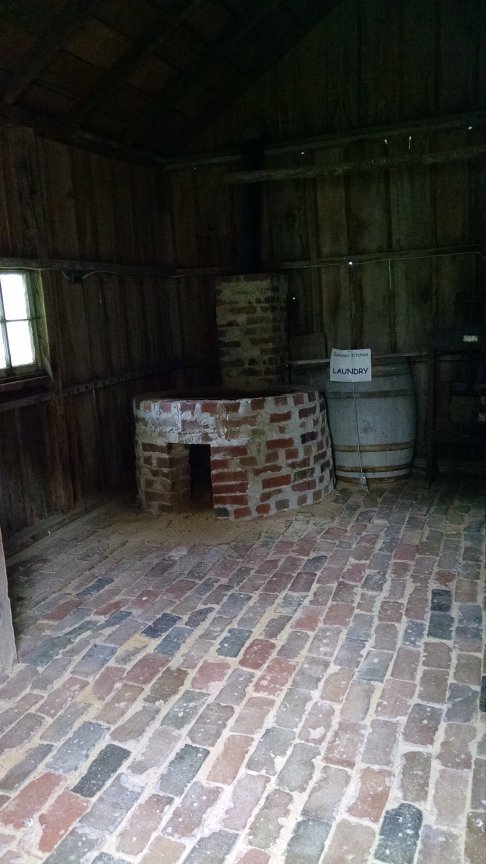 …the occasional odd contraption such as this underground storage unit…

… and the carriage and workshop barn.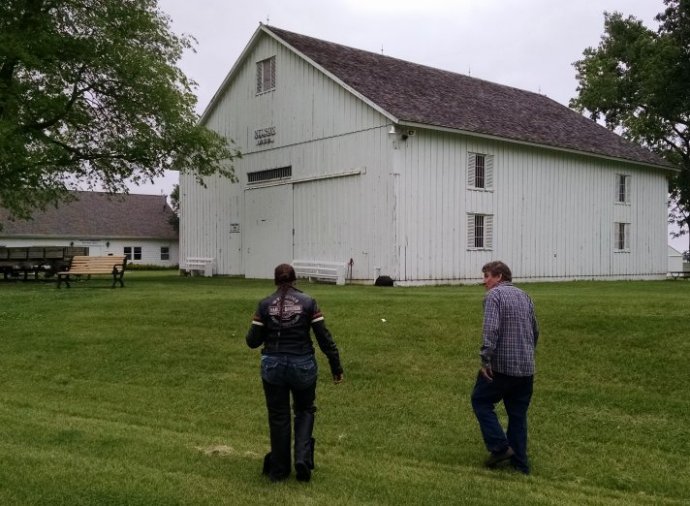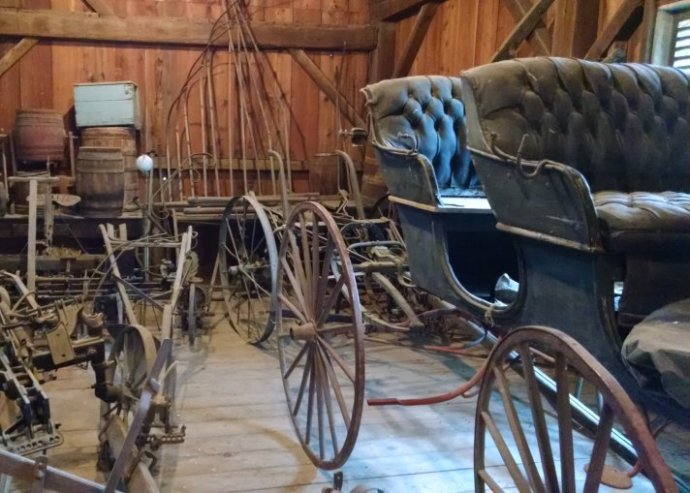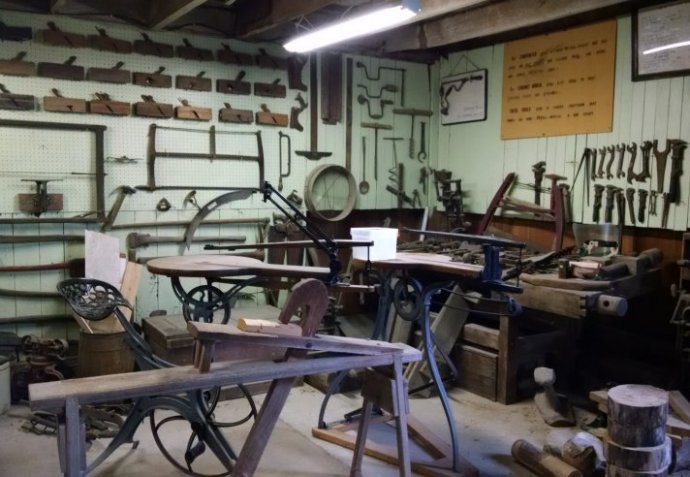 With these buildings we took about two hours of Joe's time – and when we finally ended up at the actual museum building itself, he accompanied us through that and gave us the official museum Scavenger Hunt list to complete. At this point we also met the manager of the museum. She and Joe both work on behalf of the Mahaska County Historical Society.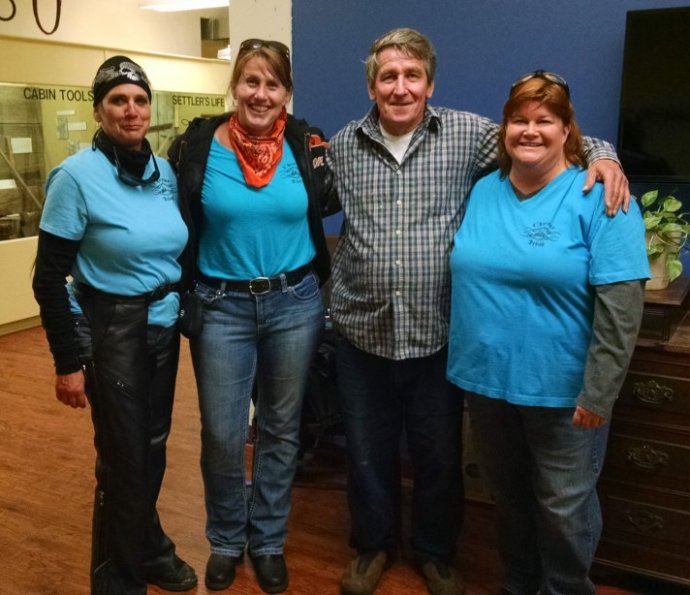 This was a really wonderful place and I think our sincere interest in the antiques and stories, and of course our animated and silly antics/bad jokes, perhaps encouraged Joe to share his knowledge. We so appreciated it!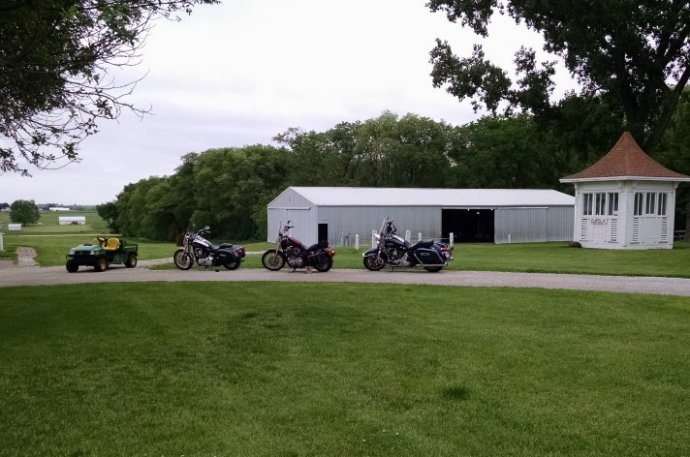 Because we had spent so much time at the museum, we took a fairly direct route home along Highway 163 which put us back into Des Moines on the city's east side. It was a fantastic and memorable day, and the Nelson Pioneer Farm & Museum is one of Iowa's true historic treasures.