New rider to attempt record-setting journey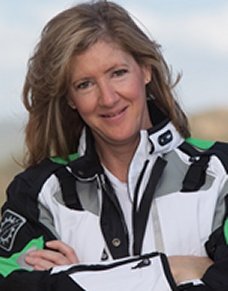 (Editor's note: See additional links related to this ride, in the comments!)
American endurance driver Deena Mastracci intends to walk into the DMV in Santa Clarita, California on June 1 and get her motorcycle license, and then immediately set out on a 9,000-mile motorcycle journey as her "first ride." But not just ANY 9,000 miles, because Deena's route includes portions of Alaska, the Arctic Circle region, the Yukon, and finally, through the Midwestern United States where she will then conclude the ride in Pennsylvania.
Deena plans to use her journey to call attention to the work of the Motorcycle Relief Project, a nonprofit charity that helps veterans with PTSD and other injuries.
"I am taking on this challenge to show women, veterans, or anyone intimidated by something new that the best way to overcome that fear is to drive through it," Deena states.
She'll also set the record for the longest journey completed by a newly-licensed motorcycle rider. She'll be accompanied by her fiance and fellow endurance driver Carl Reese, and by paramedic Jeremy Fox, both on their own motorcycles.
According to a news release posted online at PRWeb, "Followers can track her progress with live GPS vehicle tracking provided by GPS Insight, a technology leader in fleet tracking software. Mastracci's live map is available on carlreese.net, and additional updates of her journey will be posted on Facebook and Instagram."