Family travelogue: Steve & Stephanie's excellent adventure
All photos by Stephanie Green, with the exception of the one taken in front of the "Summit" sign at Pike's Peak. That photo was courtesy of Random Stranger.
Now that everyone's back safe and sound, I just have to share the little adventure that my husband and daughter undertook last week: they went on a dad/daughter road trip to South Dakota and Colorado! And although I didn't get to go with them (due to lack of vacation time banked at work), I am SO glad that they went – Steve loves Colorado and it had been 20 years since we last were there. And I've always wanted Stephanie to see the mountains, the Black Hills, and the Badlands.
After a lot of discussion, Steve decided to rent a car rather than ride the motorcycle. It would give the two of them an opportunity to share the driving responsibilities – and, as it turned out, the car was a much safer place to be at a couple points in the trip. Still, both legs of this trip – South Dakota and Colorado – of course make beautiful bike trips. I rode pillion with Steve on the Colorado trip back in 1989 (my first real motorcycle ride!) and of course we've been to South Dakota twice on our trips to Sturgis in 2006 and 2009.
Their route on Day 1 took them to western Iowa and north to Sioux Falls, SD. West from there through Mitchell where they looped through town to see the famed Corn Palace, and on through the Chamberlain area where they stopped at the Lewis & Clark rest area and Al's Oasis. They stopped at Murdo (home of "1880 Town") for the night. This is the same route we have taken to Sturgis, with the exception that we stay overnight at the halfway point of Mitchell. Stephanie has been as far as Chamberlain several times, having traveled to some of the towns around there on missions trips through her church. This was the first time she had been west of that area.
The next day they continued west, taking the Badlands Loop and stopping at Wall Drug before heading on to Rapid City and Mt. Rushmore. Rain dogged them as they traveled the Badlands Loop, but they stopped at several of the scenic overlooks anyway and explored some on foot.
They left Rushmore and traveled Iron Mountain Road to the south before stopping for the night at Hot Springs, SD.  We've traveled IMR twice on the bikes – Steve said that of course it's still beautiful, but not nearly as enjoyable to travel in a car as it is on the bike.
On Day 3 they traveled from Hot Springs west to Wyoming and then south through Cheyenne to Colorado. In Loveland they picked up Highway 34 through Big Thompson Canyon and Estes Park, then in to Rocky Mountain National Park. They were still getting a lot of rain – they said when they were up in the Park that it was "sleeting sideways" for a time – to be expected up in the mountains. Shortly after they snapped a photo of the two of them enduring the sleet, they said the sun came out and it was beautiful for the rest of the trip. I was very happy to hear that they got to finally enjoy the mountain views under sunny skies. Trail Ridge Road took them through the park, then they continued south to Granby, through Kremmling, and south to the tiny ski town of Silverthorne where they spent the night.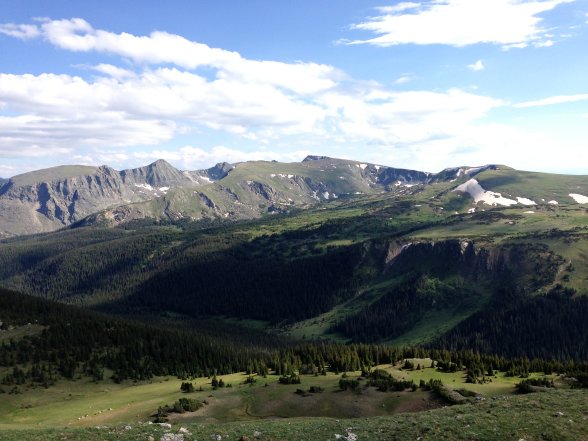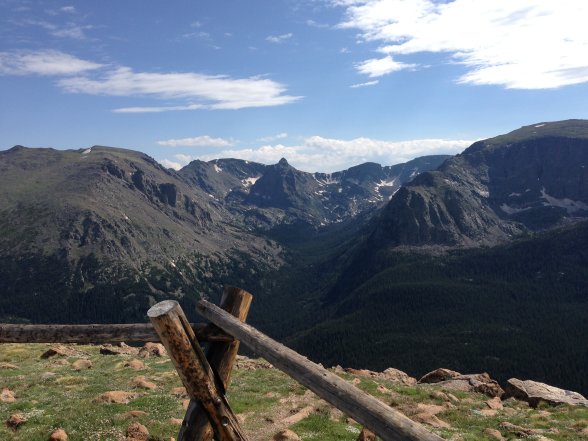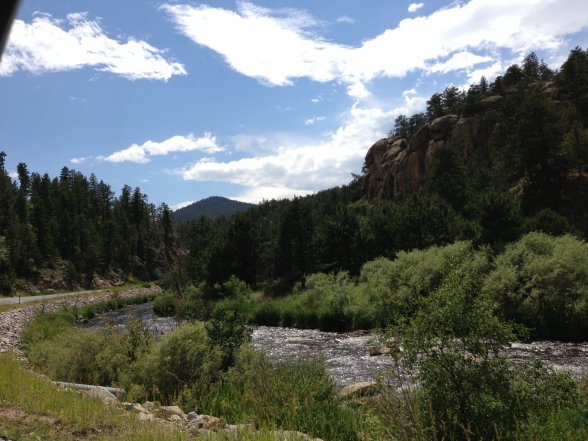 The next day's destination was Leadville – a former silver mining boom town that has staked its primary tourism claim on being the home of silver king Horace Tabor and his young wife, Elizabeth "Baby Doe" McCourt, who together lived one of America's most captivating rags-to-riches-to-rags stories. They visited the tiny shack where Baby Doe lived her widowed years following Horace's death, the long-silent mine that had produced the Tabor's millions, and the open fields of abandoned mines. They also visited Healy House, home of Leadville founder August Meyer, and the Dexter Cabin – an example of a Victorian-era hunting cabin.

From Leadville they headed east toward Colorado Springs, where they took an evening drive through Garden of the Gods. They also drove past the former location of the Flying W Ranch, where Steve and I have great memories of enjoying a "chuck wagon supper and cowboy show" on our first bike trip together back in 1989. Sadly, the Flying W burned to the ground during the Colorado wild fires a couple of years ago.

After an overnight stay in Colorado Springs, on their final day of touring they visited Pike National Forest and drove to the summit of Pike's Peak. For decades, the road from the gift shop at the midway point on Pike's Peak to the summit was "paved" only with fine gravel. Sheer drops and a lack of guard rails made the road an un-nerving challenge no matter what type of vehicle was used. Steve reported with some disappointment that the road was recently completely paved, and several guard rails added – many of which were already dented and scuffed from contact with vehicles. "Nothing stays the same," he lamented. Except perhaps for the millions-of-years-old mountains and the incredible views. :) 
They both reported having a fair amount of trouble dealing with the high altitude and thin mountain air. Steve said that he was glad he had not brought the bike on this trip, becoming so dizzy on Pike's Peak that he realized he likely would not have been able to ride down. It's interesting that these physical effects had never been an issue for him on any of four or five previous trips.
After a visit to the summit, it was time to begin the trek home. They traveled the rest of the day heading east through Colorado, Kansas, and Nebraska, with an overnight stop in Kearney, NE before arriving home on Day 6. Upon my return home from work that day, I was treated to a slide show of over 1,000 pictures – almost as good as being there!