Divas ride to Reiman Gardens & Wildlife Care Clinic
Had a really wonderful day with the Chrome Divas of Des Moines last weekend, the ladies' riding group that I helped to found in 2011 along with Shirley, Coyote, and IowaHarleyGirl Stephanie. There are ten of us now which means we usually have anywhere from three to seven for our monthly designated ride days. In June we were headed to Ames to visit scenic Reiman Gardens, and the Wildlife Care Clinic – a veterinary clinic for injured wildlife.
We gathered in Des Moines at Sambetti's (the official home of the Chrome Divas of Des Moines – YAY PAUL!!) and set out shortly after 11 a.m., pretty certain it was going to rain at some point but sort of hoping it would be while we were off the bikes. Around 11:30 we were heading north through Ankeny, and as we approached a major intersection, we could look up ahead and see that it was raining hard just west of the road we were on.
We were catching a few sprinkles as we rolled to a stop at the light, so I decided to pull off and just let the shower pass over the road. It started raining on us in earnest as we went through the intersection and pulled into a strip shopping center. We parked quickly in the available spaces in front of the building and stood under the overhang for a couple of minutes before the real downpour started. At that point we went into the CJ's Bagels shop to wait out the rain.
Meanwhile, our Diva sister Megan was texting us from our destination and letting us know it was also raining intermittently in Ames.
Forty-five minutes later, the sun was shining and we were drying off the bikes, and moments later we were again on the road heading north. Another 'local shower' crossed the road as we approached Huxley just a few miles south of Ames, but we missed that one entirely and rolled into Ames around one o'clock. (Almost two hours to go 35 miles? Pretty typical – at least for me!)
Our first stop to explore was Reiman Gardens, the 14-acre gardens of Iowa State University which serve as the learning laboratory for horticulture students. We toured the indoor butterfly garden – oh my goodness, magical! – as well as most of the outdoor spaces. The Gardens include rolling hills, wide open vistas, a large lake, formal Asian-inspired areas, informal cottage-style gardens, a large collection of nature-themed sculptures, and many other beautiful features. I swear this place is like having the world's prettiest yard without having to do the work. Below are just a few of my pictures – you can click through to my personal Facebook page to see the full album of photos.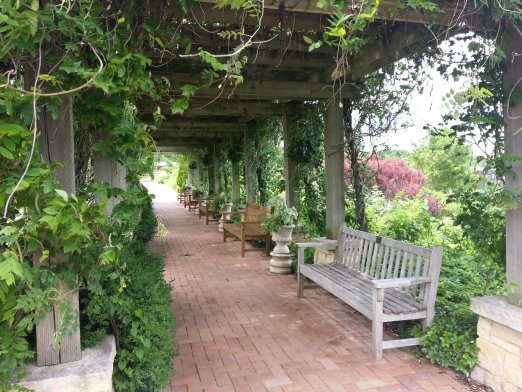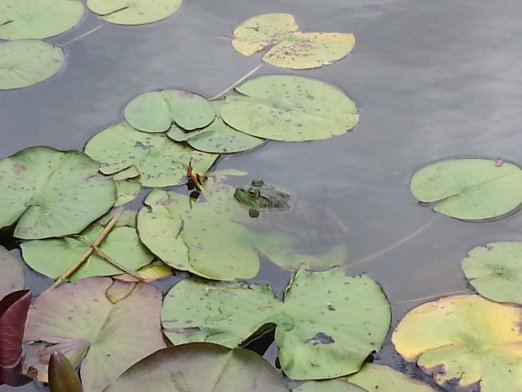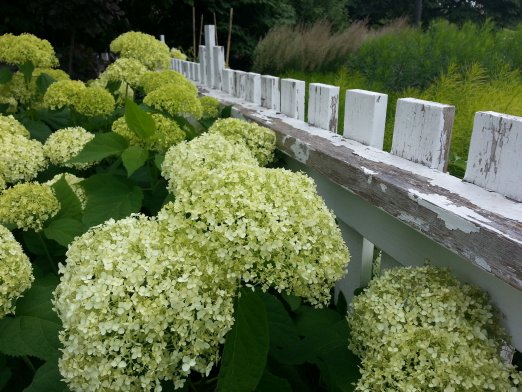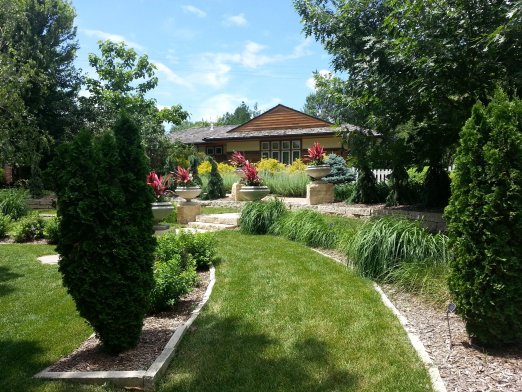 We left Reiman mid-afternoon and headed across the street to the ISU Vet-Med complex, where Megan had directed us to meet up for the Wildlife Care Clinic tour. The clinic gives veterinary medicine students first-hand working knowledge of emergency animal care, and focuses its efforts specifically on wildlife because so few other places will handle those animals. This was truly a very educational experience – our tour guides Sarah and Katelyn introduced us to all the residents of the Clinic, both permanent and temporary. Most of the permanent residents had been fully or partially blinded after contact with vehicles: we met Ernie, who managed to make possums look fuzzy and cute! We met Harvey, a great horned owl; Kali, the barred owl; Sora, a red-tailed hawk; Screechy, an Eastern screech owl; Kessie, an American Kestrel with only one wing; and several others. Temporary residents included a mama and baby cardinal, a distraught coyote pup, and turtles Frank Sinatra and Aretha Franklin. Below are a few of them.
Our last stop in Ames was famed barbecue venue Hickory Park, where we were joined by Janet/Seven Over and enjoyed ice cream desserts. We were excited to hear from Janet about her recent ride to Washington, D.C. where she and her husband Gerry participated in a police-escorted ride-in to the Law Enforcement Memorial. They worked in a ride through the Tail of the Dragon on their way back as well. 
The ride home was short, sweet and dry – in all a lovely day with interesting destinations and of course wonderful fellowship!