International Female Ride Day: An Update with founder Vicki Gray
In 2007, "Motoress" Vicki Gray created a day to celebrate women riders. It wasn't an event with a location, a start time, and a 50/50 drawing. Rather it was just the idea that on a certain day, women would ride in celebration of being women on motorcycles. At that time, Vicki took some time to answer questions from me about the concept of International Female Ride Day, then in its infancy. Now we're seven years down the road, and it seemed like a good year to do an update with Vicki. So here we go: a brand new and exclusive Q & A with International Female Ride Day Founder, Vicki Gray!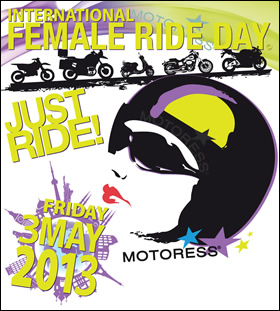 BCN: This will be the 7th year for IFRD. Do you have a sense of how large it has grown in that time, or anything in particular that you measure that illustrates the expansion of the concept?
Vicki Gray: IFRD has blown up in global participation and especially with the assistance of Facebook, social media and our now web-savvy civilization. Its been in the past four years that the boom has really evolved because the word gets out there and women are more comfortable with the internet and have been making it a part of their daily 'connecting' lives. I can't tell you the numbers who participate but it is thousands! And not all women report in on the day. Many women just enjoy riding – they get out there and are not needing to share their actions. If you do a search on Facebook alone for International Female Ride Day there are oodles of events. Women are thrilled about this action all over the world and it's not diminishing–its become bigger and bigger every year embraced by women riders the planet over. Each year women collect the annual t-shirt – and book the time off work from what I've seen via messages, as early as eight months out. It is something that is embedded in our love of motorcycling – there are so many reasons this day will continue to rise – its truly part of our women's riding culture now.
BCN: What is most satisfying to you about having started IFRD, considering the scope of it today?
Vickie Gray: The best part for me is meeting the most amazing women riders the world over! I can tell you honestly, I know a lot of women who enjoy motorcycling! I'm very fortunate. It's been seven years that I've been on the direct receiving end of pretty much every question or enthusiastic comment. I've received emails upon emails of triumphant women who have come forward in their lives, in their cultures, in their regions through motorcycling and what this day means to them. One of the best events I recall was the first time a group of women riders rode through the streets of Tel Aviv on IFRD which had never been done before in history.
Additionally, the motorcycle industry has taken good advantage of the campaign and I've encouraged their support which has definitely been great! But I've also been protective about IFRD. It's for all brands. It's because of this amazing happening that other organisations, brands and individuals have used this network to reach out for their own [often commercially selfish] needs. I've had to do a lot of policing over the years and that will make a great book one day! Much of the market's growth for women in motorcycling is due to the existence of International Female Ride Day – it underlines the activity of women riders but here women riders take lead of who they are. And women riders are able to meet like minded, make friends we are able to join together around the globe- it brings us together and that goal continues to be achieved
BCN: Do you have any notion of how many miles are racked up on IFRD, worldwide?
Vicki Gray: No idea. And it's not about the miles or kilometres, it's about getting out there. Whether you opt to take the motorcycle to work on IFRD rather than the car – and ride only 10 kms – you did your part. You got out there and represented women riders and inspired others.
BCN: What do you still hope for IFRD in the future? What would you like it to become?
Vicki Gray: I hope it continues for eternity! I hope it becomes an official day in all countries. I started this as a woman motorcycling advocate; I had many goals/dreams with it , and one (was) the demonstration of the many numbers of women riders. We've always been there and I wanted us to show the world our numbers.  Of course there's a feministic women-power part to this goal as well. The days are disappearing, and have in Western cultures, of women being in and taking the back seat – we buy houses alone, we run businesses and we charter our own paths. But of course, its still up to women to choose the way they wish their lives to play out. And what's happening now in the evolution of International Female Ride Day is a massive bringing together of like minded women through all cultures and nationalities. This was the plan and I think this link is the substance which will keep International Female Ride Day going. In a world where we know unity, sisterhood is the strength which will make changes for our world as women going forward- and is!
Though, funnily enough there are as in any case, many women who've through one reason or another, tried to dispute the date, hold it on another day – quite simply- it's always been my policy, if you don't like the criteria, don't get involved. I must laugh, as obviously this idea and its huge global success struck a chord with women! You can see by the massive success of this campaign and the passion women have for it, it's working. The women who've picked up the torch and carried it on every year – it's been their choice to support the date with little effort from my side. I'm truly honoured!
There have also been attempts and particularly by one large global manufacturer to take this idea, this day and rebrand it for their own. It's been difficult for me keeping this event just for women riders – an all-brands focus. Unity, no discrimination. I think the most difficult part for me is that I do it all for free. I'm self employed, a struggling entrepreneur, and this costs me time, effort and of course financially. Sure I produce some t-shirts but the profit is nothing to speak of.
My gain is simply for the mission, which is at the truest core of my heart – to expand the knowledge, change the perceptions and reap the pleasures and rewards motorcycling provides us- on all its levels.
BCN: Is there anything specific about IFRD for 2013 that you would like readers to know?
Vicki Gray: Just that the women who join in and have in the past to JUST RIDE on International Female Ride Day are truly unique, inspiring, incredible examples of tremendous ability and spirit. Through all ages, experiences and cultures women have joined together our power and passion through something that's so fun and rewarding. This example is a great bench marker for others. Community is strong and women are demonstrating that simply by taking the handlebars!
Sincere thanks to Vicki Gray for taking time to answer my questions once again!
International Female Ride Day 2013 is Friday, May 3!  Incredibly enough, it's snowy again here in Iowa so my riding plans have been thwarted by Mother Nature. But I hope YOU will get a chance to JUST RIDE!