2013 – First ride of the season… FINALLY!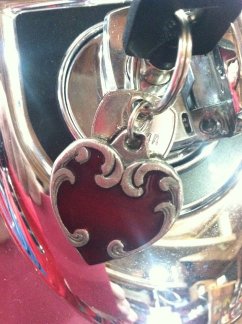 April 6 – In eleven years of riding, I think that this was the latest "First Ride of the Season" I've ever had! Now mind you, it's not the first nice day of the year – no, there have been a few of those, and I know a few people who actually got out and rode in February. But the nice days we've had haven't coincided with a weekend – my days off – until now.
We spent some time Saturday morning just getting the bikes out and checking them over… I know, because I've blogged about it, that there's a five-point pre-ride inspection checklist you're supposed to cover, but quite honestly the only things we looked at carefully were tires and dirt.
As in, check tires for condition and proper inflation, and remove as much dirt as possible without breaking a nail (sorry, laced wheels, maybe next year). At one point in the process Steve asked me how much I'd charge to clean his bike for him and I said "Give me $50 and I'll do as good a job on yours as I did on mine." He looked at mine and said, "no thanks."
The weather was a little odd – it was supposed to be 68 and "mostly sunny" by mid-afternoon, but windy. We decided we were just going to run up to Big Bard HD and shop a little, then go on up to Saylorville and ride around the lake.
Whenever we wander in to Big Barn for the first time in the new season, I always feel like that guy in the Kingsford charcoal commercial who comes out of hibernation while his friends are barbecuing – "I was inside for so long… it was nothing… just white… and cold… SOMEBODY GET THIS MAN A BURGER!"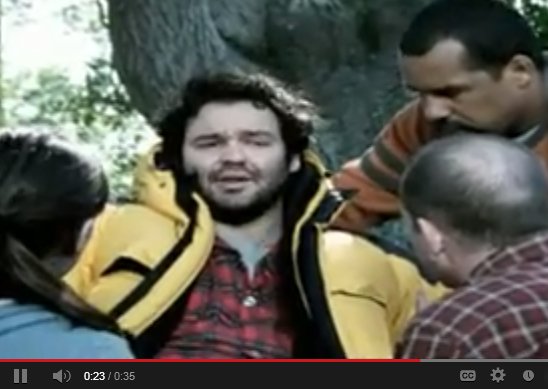 Anyway, while at the Barn we poked around Apparel and Parts… is it weird that seeing a line-up of painted fenders and chromey bits always make me happy?
Saylorville isn't really much of a ride in terms of distance or difficulty, but it's a great shakedown cruise for the first ride of the season because it gets you "out of town" and into something scenic yet keeps you close to services in case there's a problem. (And by "services" I mean Casey's General Store, and by "problem" I mean needing a beverage… or maybe gas.)
The ride itself was nice… we never did hit the 68 degree mark, or the "mostly sunny" mark… we did hit the "30 mph crosswinds" mark going over the mile bridge and again while sitting on the scenic turnout on top of the dam, and we hit the "here's a little cold rain for your riding enjoyment" mark on the way home. OH! And, I personally hit the "Remember that gift card you won 2 years ago from the HOG club and promptly lost? FOUND IT!" mark while cleaning out my saddlebags, so in all it was a great first ride.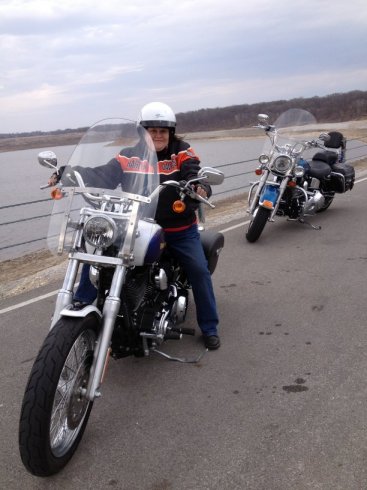 How about you – what's your weather been, and where are you headed this week… or this year?