Bits 'n pieces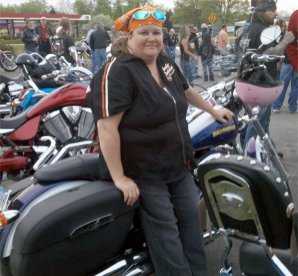 Been taking some time to apply for new jobs this week and today I realized it had been a LONG time since I blogged about anything! Then I actually peeked in here, and to my relief discovered it had only been a week. It sure FELT like a lot longer than that! Anyway, just a few notes to share:
First, I took Kitten (plus hubby and his bike – LOL) out to a long-standing bike night event last Thursday and had a neat experience: we were standing at the bikes and a man came up who I didn't know and said, pointing to Kitten, "So is this the new Dyna?" When I said yes it sure is, he told me his name was Tim and that he is a big fan of the blog. I always get a kick out of being "recognized" from the blog – it has happened maybe four or five times over the past few years. It's an absolute delight to meet people who read and enjoy what I post here, and learn more about their motorcycling adventures! So I wanted to be sure to say THANKS to Tim for introducing himself and making my day with a very nice compliment!
Also, I sure hope you aren't getting sick of me linking out to Chessie's blog yet – I just think she writes the very best "make you wanna be there/ride that" ride reports, and always has stunning photos to go along with the wonderful stories. Here's the latest, a VERY inviting write-up about a leisurely trip along NC state road 209.
Finally, Friday May 7 is International Female Ride Day – so, as I've said before, if you are a woman who rides her own, get out there and make a spectacle of yourself! (I'm not sure I will have a chance to ride, but maybe I can at least pull Kitten out of the garage and clean her up a bit!) Be sure to leave a note in the comments and tell us if you plan to ride, and where!