Steampunk bikes, spirited women riders, and more snow
I have officially crossed the threshold of "I hate winter" and am beginning to allow myself the occasional "Spring is not THAT far away."   I know my optimism might be premature – we've had more than 5 inches of snow on the ground since the first of December, and we are supposed to get 8 more inches on Monday. But, I'm more sick of feeling depressed than I am of winter. I need to get my cheerful back, so I'm determined to talk myself out of these doldrums.
Of course, one of the ways I'm passing the winter evenings is by web-surfing. I thought I'd share a couple of the more recent bits I found that really caught my eye.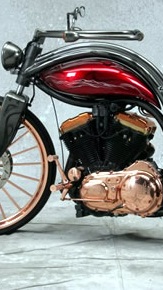 First, from Rippin-Kitten, here's a look at some ridiculously cool steampunk motorcycles. What's steampunk? Well it's a fashion/culture/design movement that takes elements from the days of Victorian-era steampower and makes them look futuristic – from their own time. Take a look at Lizzie's post (note the steampunk computer), and maybe peek at the Steampunk Fashion Group over on Flickr, and you'll get it immediately.
Next up, over on Twitter, somebody shared a link to this post on the Cyril Huze blog about new art by David Uhl. Be sure click through to Uhl's website – and take a look at his "Women of Harley Davidson" collection. I found the whole series spirited and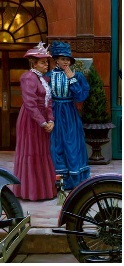 beautiful, just like the women I know who ride! (I'd love to hear your thoughts – be sure to leave a comment!)
Finally, here in Des Moines I'm looking forward to the Capitol City Motorcycle Swap Meet and Bike Show, coming up the weekend of Feb. 13-14. The swap meet serves as a dose of much-needed biker socializing and shopping at a time when it's still too early to think about getting the bike out of the garage. It makes you think you are going to survive the winter after all, and I could really use that boost right about now.
(Oh look, it's snowing this morning – isn't it PRETTY??)