Sturgis 2009: The Suck It Up Tour is done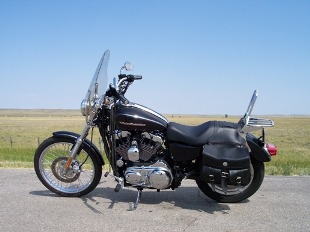 Wanted to state for the record that we have returned from our 2009 visit to the Sturgis rally – a trip we've officially dubbed the "Suck It Up Tour." Our group included myself and hubby Steve, Kristin, Shirley and hubby Garry, and Shirley's sister Nancy and hubby Chuck. Full ride reports and commentary coming soon, but here's the quickie version of our itinerary so you can see how we spent our 9 days and 2,020 miles:
Day 1 – Des Moines to Mitchell, South Dakota.
Day 2 – Visit Corn Palace, ride through the Badlands, Wall Drug, and on to Belle Fourche, SD.
Day 3 – Visit the Sturgis Rally.
Day 4 – Ride to Devil's Tower, Wyoming.
Day 5 – Ride to Pactola Reservoir, Mt. Rushmore, Iron Mountain Road and Crazy Horse Memorial.
Day 6 – Ride to Sundance, WY, and Vanocker Canyon/Nemo Rd. near Sturgis.
Day 7 – Day off to prep for return trip home.
Day 8 – Belle Fourche, SD to Mitchell.
Day 9 – Mitchell, SD to Des Moines.
More soon!