It's Women Riders Month – let's ride!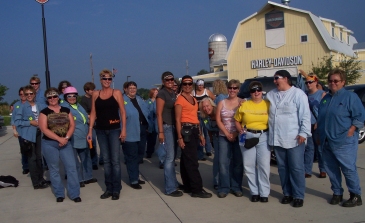 The Harley Davidson company has proclaimed (among just a little bruhaha) May to be Women Riders Month, with a variety of events and celebrations planned to call attention to the number of women riders now on the roads.  As I've pointed out in some of the discussions about the value of a celebratory month, this is HD's way of celebrating and catering to their growing female ridership. While some don't see the need and feel like HD is pandering to them, I say that this kind of attention is good.
For one thing, it raises the visibility of motorcycling in general. As HD spends time and money promoting its products and programs aimed at women riders, it calls attention to the very facts that a). motorcycles exist and share the road; and b). in the seasonal states, it's now motorcycle season so drivers should be on the lookout.
For another thing, it encourages women who aren't yet riders to get out there and follow their dream to learn. If a women wants to get off the passenger seat and take control of her own machine, she should absolutely be encouraged to do so. Maybe seeing more women riders on the road will convince others that it's time to ride.
Finally, this celebration should not be and does not need to be limited to the Harley Davidson company. With HD having taken the step of publicly acknowledging and celebrating their share of the women's market, other groups should follow and grow Women Riders Month to include safety and educational components, local riding celebrations for all makes and models, and more. Just because HD said it's Women Riders Month, doesn't mean they're the only ones who should be celebrating. While HD may dominate the celebration this year, it would be great to see other companies and organizations add more components to it for next year and beyond.
Okay gals, enough talk – it's a bright blue sky, and reaching for almost 70 degrees today. It's also Demo Days at Big Barn Harley Davidson. Think I'll go for a ride. How about you??