Ok, sometimes it IS the destination!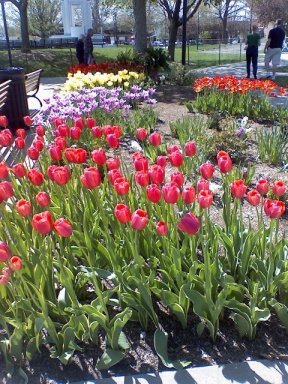 Whoever said "It's not the destination, it's the journey" never rode a Sportster on a four-lane highway in 30 mph cross-winds. It sure seemed like a beautiful day when we were standing in the driveway… there really didn't seem to be any wind, the temperature was around 70 with a clear blue sky.
Our original plan was to collect Garry and Shirley in Carlisle and then make a loop to the southeast and then back up to Newton and home on old highway 6. When we got to Carlisle with Howard and Brenda, Garry & Shirley suggested that we go a little farther on to Pella, where the annual Tulip Festival had just concluded. Since I'm not as familiar with that area, we had Garry take the lead to get us there.
We rode south on Highway 5 out of Carlisle, and I was really noticing the cross-wind pushing me around on the road. We turned left onto Marion Co. highway G40 at Pleasantville and took that to Lake Red Rock. G40 ends at highway 14, just shy of the entrance to the Mile Bridge going over the lake. We crossed the bridge and turned southeast onto G28, which we took into Pella. This was a really scenic ride that took us past Cordova State Park, where the water tower-turned-observation-tower is located. (Lake Red Rock is an Army Corps of Engineers lake farther downstream but part of the same system as Polk County's Saylorville Lake.)
We parked on the square in Pella and took a little time to walk around and look at the tulips in bloom. The Pella Tulip Festival is a long-standing Iowa tradition. The town has a distinctly Dutch heritage, and every year they build a community festival around the thousands of tulips planted around the square and in a variety of gardens around town. Although we missed the official festival by waiting til Sunday to ride down, the tulips were still beautiful – a few were fully bloomed and blown, and some will peak in a few more days. Most, however, were in full regalia and it really was a lovely time to visit. (Full photo album here.)
We decided to take the faster, less scenic route home – we took Highway 163 from Pella into Des Moines, and this was where I really got sick of the cross-wind. I swear I have never been pushed around so much as I was on this 40-mile stretch. (Even our first day of riding home from Sturgis in 2006 wasn't this bad!)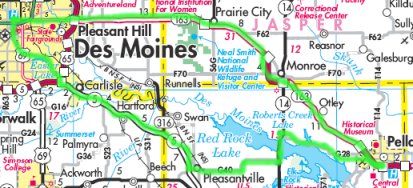 One of the most annoying things for me is that I seem to have a problem with my jacket ballooning up from the wind. I don't know if it's the fact that my sleeves don't fit snug, or that the jacket's not vented… it doesn't even matter which jacket I'm wearing, I always have this problem in strong wind. So I was battling the balloon, and had to keep my jacket zipped all the way up to my chin – only to find that this caused the little fabric zipper pull to whip me repeatedly on the chin and mouth. My solution was to clench the fabric pull between my teeth. I must've looked like a dog pulling on his chew-rope. At least it kept me from getting whipped in the face. (Turns out, Garry had a whipping problem too – the radio antenna on his 'Glide kept catching him on the back of the head and ear!)
In all we rode a hundred miles – and I am FINALLY sporting that "sun-burned from the forehead, down" look you get from wearing a do-rag and sunglasses!