Tragedy in Balltown – Breitbachs destroyed by fire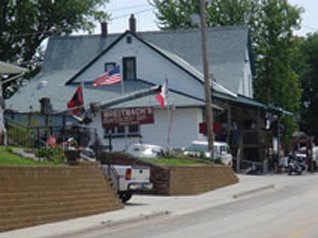 I'm really saddened to report that Breitbach's, the legendary family-owned restaurant in Balltown, Iowa, was destroyed by fire on Christmas Eve. During the 2007 Estrogen Ride, we rode from Galena, IL over to Balltown to have dinner at Breitbach's, then back to Galena.
Locals in Balltown have started an assistance fund for the Breitbach family. The cause of the fire is still under investigation.
What's really painful about this is that the history of the town is so wrapped up in the history of the restaurant – it has been in operation since 1852 and was Iowa's oldest restaurant and tavern. Numerous irreplaceable antiques were destroyed also, which had decorated the restaurant.
I hate to see any community lose a historic landmark. My heart goes out to the Breitbach family and to all of Balltown. Here's wishing you a speedy rebuild!
(Googled photo courtesy of www.tristatetourism.com.)