Sydney's Wish Poker Run
September 7, 2013
Registration 10 am at The Fraternal Order of Eagles #109
6567 Bloomfield Road, Des Moines
Cost: $15 per person
In 2011, a young student in central Iowa named Sydney Schwienebart was driving her car on a rural road near Colfax, Iowa. According to news reports, Sydney struck a guard rail going around a curve. Her car went over the rail, flipped several times, and landed upside down in a creek. She died at the scene. Sydney was a senior at Southeast Polk High School, with plans to attend college and become a history teacher.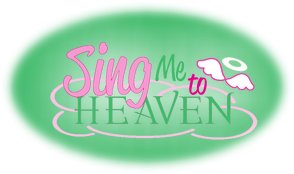 This week in my email I received information from one of Sydney's family members about the Second Annual Sydney's Wish Poker Run, coming up September 7. This run will raise money for the Sing Me To Heaven Foundation, which assists grieving parents with funeral expenses after the loss of a child. Funds will also be raised for the Sydney Schwienebart Memorial Scholarship Fund at Southeast Polk High School.
The loss of a child is certainly a parent's worst nightmare – my own daughter, now 19, is just six months older than Sydney, and her personal safety has been a constant weight on my mind since the day she was born. It seems cliche to say it, but I truly cannot imagine the pain of something horrible actually happening to her.
But Sydney's story touches my heart for another simple reason: The road on which she died, F-48, is one of my favorites to ride in central Iowa with beautiful curves and far-reaching views. I am sad and sorry to think that this road – which for me offers nothing but beauty and the joy of a motorcycle ride – holds such grief and suffering for another family.
I had not heard of Sydney and her story until this week, but I am grateful for the opportunity to learn about her many gifts and talents, and her dreams for the future. I wish her family peace, and I encourage you to enjoy the ride on September 7!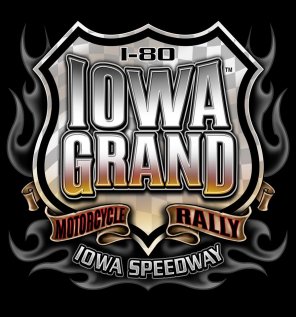 Actor Charlie Hunnam has been forced to cancel all appearances at the Iowa Grand Motorcycle Rally on Friday, May 31 and Saturday, June 1, due to the shooting schedule of the TV series in which he stars, according to a news release issued May 14 by the Iowa Grand Rally.
The "Sons of Anarchy" actor will be unable to attend the two-hour public 'meet & greet' session on Saturday, and the three 90-minute private 'meet & greets' – one on Friday evening and two on Saturday afternoon – at Iowa Speedway in Newton.
Anyone who purchased a private 'meet & greet' session will have their full order refunded, with a period of 7 to 10 days needed for the refund to be processed, according to a news release issued by the Iowa Grand Rally. For more information on this refund, please contact the Iowa Speedway ticket office toll free 866-787-8946.
The Iowa Grand Motorcycle Rally, slated for Thursday, May 30 through Sunday, June 2, is the first major event on Iowa Speedway's busy 2013 schedule. The Rally's entertainment line-up will include live music acts, numerous food, beverage and merchandise vendors, bike displays, tattoos, burn-out and talent contests, motorcycle drag racing, lawnmower racing, body painting, and the ever-popular 'Wall of Death' motorcycle daredevil show.
Additional information about the 2nd Annual 'Iowa Grand Motorcycle Rally' may be accessed on the Rally's official website, www.iowagrandrally.com, or on Facebook at www.facebook.com/iowagrandmotorcyclerally. Vendors and potential advertisers may reach Iowa Grand Rally Coordinator, Sabrina White, at swhite@iowaspeedway.com for details.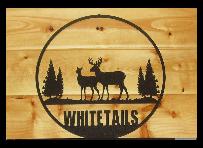 Whitetails Bar and Grill in Marble Rock, Iowa will be hosting its Fifth Annual Motorcycle Poker Run beginning at 10 a.m. on June 15th. This run is a great opportunity to visit North Central Iowa.
This year's run benefits The ARC Charities organization which helps people with intellectual and developmental disabilities, the "That's M.I.N.E. (Motorcyclist.In.Need.Everyday) Donation," which helps bikers with certain living expenses if they are off work due to a motorcycle-related injury, and area hospice service providers.
Additional activities include a bike show, bike blessing, games, dinner and musical entertainment. Complete information about the ride and related activities is available on the Whitetails website.
Fred and Jackie Ingraham, Owners of F&J Racing, have announced that their 18th Annual "Blessing Of The Bikes" for 2013 will be held Saturday, May 4, from 10 am – 4 pm at the American Legion, 1301 S. 6th St. in Marshalltown, Iowa.
The event will benefit two Marshalltown-based charities: The Iowa Care Package, providing needed items to US military troops around the world; and the Domestic Violence Alternatives/Sexual Assault Center, providing services to survivors of abuse.
A Gate Fee of $10 will help fund these organizations in 2013. Additional activities at the Bike Blessing include:
… and much more!
This year there will be a $20.00 fee charged to vendors wishing to sell or promote products and events. Electricity is included in this fee.
If you have additional questions about the event, please connect with F & J Racing on Facebook at www.facebook.com/FandJRacing or contact Jackie or Fred Ingraham at 641-752-7625 or via email at fandj@fanjracing.com.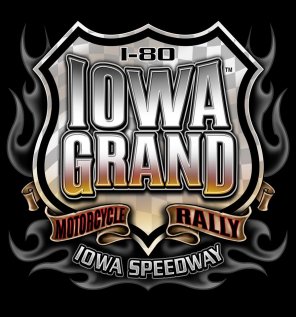 Straight from the iron horse's mouth, folks – here's a news release I received March 5 from the Iowa Grand Motorcycle Rally, May 30 thru June 2 in Newton, Iowa!
Officials at Iowa Speedway announced that tickets to the 2nd Annual 'Iowa Grand Motorcycle Rally', slated for Thursday, May 30 through Sunday, June 2 at the Newton facility, are available for purchase.
Responding to numerous inquiries from Iowa motorcycle enthusiasts, Iowa Speedway Director of Ticketing Operations Jason Christofferson has placed the event on the track's Ticketmaster system, and ticket orders may now be placed through the speedway Ticket Office.
"We are pleased to offer our customers the opportunity to buy Iowa Grand Rally tickets in advance this year," Christofferson said. "With the line-up of entertainment we have on tap, and the enthusiasm I've heard about our new dates this year, I anticipate a very big crowd will be on hand for our second annual Rally. And we look forward to announcing our music acts in the very near future."
Individual ticket prices for the 2013 Iowa Grand Motorcycle Rally are $20 for Friday, May 31 ($25 with a rider), and $25 for Saturday, June 1 ($30 with a rider). Two-day tickets are available for $40, or $50 with a rider, while the Thursday and Sunday activities are free and do not require a ticket.
Tent camping is free in designated areas, while RV's are $50 per site with no utility hook-ups, and $150 with water/electric included, for the four days. Vendor spaces are still available, starting at $200 for a 10' X 10' area, as well as many advertising and sponsorship opportunities for businesses catering to the motorcycle marketplace.
"With the return of 'Sons of Anarchy' star Charlie Hunnam for another meet and greet with rally-goers, the 'Wall of Death' experience, body painting, amateur talent contests, vendors, displays and lots of good music, we think this year's Iowa Grand Rally is going to be nothing but fun," said Luke Clement, Director of Track Services and Rally Coordinator for Iowa Speedway. "This isn't a 'motorsports' event; it's about celebrating the lifestyle of bikes and bikers, and a place where even people who don't ride can come out, relax, and let their hair down."
Tickets and camp sites for the 2nd Annual 'Iowa Grand Motorcycle Rally' are available online at www.iowaspeedway.com and www.iowagrandrally.com, or by calling the toll-free ticketing hotline at 866-RUSTY-GO (787-8946). Patrons may also visit the Iowa Speedway Ticket Office to purchase Rally tickets, located at 3333 Rusty Wallace Drive in Newton.
Additional information about the 2nd Annual 'Iowa Grand Motorcycle Rally' may be accessed on the Rally's official website, www.iowagrandrally.com, or on Facebook at www.facebook.com/iowagrandmotorcyclerally. Vendors and potential advertisers may reach Iowa Grand Rally Coordinator, Sabrina White, at swhite@iowaspeedway.com for details.
Iowa Speedway is a state-of-the-art 7/8 mile asphalt paved tri-oval race track and motorsports facility located just 30 miles east of Des Moines at I-80 Exit 168 in Newton, Iowa. The track is owned and operated by U.S. Motorsport Corporation and designed by NASCAR Hall of Famer Rusty Wallace, now an anchor and analyst for ABC-TV/ESPN. Call 1-866-RUSTY-GO, or visit www.iowaspeedway.com to learn more.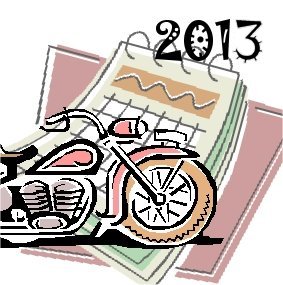 Hi friends! I hope you all thoroughly enjoyed the holiday season and are ready to tackle a new year! I have to admit, I am finding it a little difficult to get my mind right so far this year. No doubt, I am looking forward to Spring and going for a ride… but, I can't help but wonder what the year will bring economically. We shall see!
Meanwhile, I was SO surprised to receive a beautiful white mesh HD jacket from my hubby for Christmas… can't wait to take it for a two-wheeled spin!
In other news, I've begun compiling my annual calendar of area events (plus a few national rallies), so take a peek and let me know what's missing. Remember, this is primarily a Des Moines-and-Iowa-focused list. While I can't list every Bike Night, I would love to hear about any day- or weekend-long events that I may have missed.
Capital City Custom Bike Show & Swap Meet – February 16-17, Des Moines IA
Daytona Bike Week – March 8-17, Daytona Beach FL
Indianola Bike Night – Third Friday of the month, April 19 thru September 20, Indianola IA
Winterset Bike Night – Third Saturday of the month, beginning April 20 in Winterset, IA
ABATE District 4 Blessing of the Bikes – April 20, 11 am at Big Barn HD in Des Moines
Iowa Dept. of Transportation Motorcycle Safety Forum – April 26 at the State Fairgrounds in Des Moines
Gathering on the Grounds – Second Thursday of the month, April – July at the State Fairgrounds in Des Moines
Kelley Bike Night – Thursdays 6-10 pm, as shown on flyer linked at left, Kelley, IA
Knoxville Bike Night – First Friday of the Month beginning in May through September
Fatboyz Bike Night – Second & Fourth Friday of the Month beginning May 10 in Grimes, Iowa
Struthers Brothers Dinner Rides – Saturdays May 11, June 8, June 22, July 13, August 10, August 24, August 25, September 7
Hartford Bike Night – Second Friday of the Month, actual dates TBA
St. Charles Bike Night – Second Friday of the month, beginning in May
International Female Ride Day – Friday, May 3, worldwide!
Thunder Nites in Newton – Second Friday of the month, May 10 thru September 13
18th Annual Blessing of the Bikes – 10 am Saturday, May 11, at the American Legion in Marshalltown
Vintage TorqueFest – May 3-5 in Dubuque
7th Annual Motorcycle Awareness Ride – May 4 in Cedar Rapids

Iowa Grand Motorcycle Rally – May 31-June 2 at the Iowa Speedway, Newton IA
Angels for Sam Ride – June 9, Des Moines IA
Mississippi River Motorcycle Rally – June 12-15, Davenport IA
Whitetails Bar & Grill Poker Run – June 15, Marble Rock, IA
Iowa State HOG Rally – June 20-22, Clinton IA
J&P Cycles Open House – June 22-23, Anamosa IA
ABATE Iowa State Freedom Rally – July 4-6, Algona IA
Sturgis Rally – August 5-11, Sturgis SD
Iowa State Fair Motorcycle Day – August 18, Des Moines IA
Sydney's Wish 2nd Annual Benefit Poker Run – September 7, Des Moines IA
Hogs for Dogs – September 8, Ottumwa IA
Bikes Blues & BBQ – September 18-21, Fayetteville AR
Biketoberfest – October 17-20, Daytona Beach SD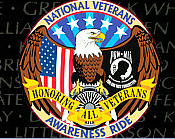 Here's a great opportunity to honor veterans and participate in a unique tribute ride. The annual National Veterans Awareness Ride (NVAR) starts in Auburn, California on May 15 and concludes on Sunday, May 27 in Washington, D.C. It's a full agenda of greeting veterans at VA hospitals, conducting wreath-laying ceremonies at veterans' cemeteries, and celebrating the legacy of veterans at sites across the country. The ride is conducted each year by the National Veterans Awareness Organization, a non-profit organization started in 2005 to honor all veterans.
The NVAR ride passes through Iowa on Sunday and Monday, May 20-21, with stops in Council Bluffs, the Freedom Rock at Greenfield, Van Meter, Des Moines, Marshalltown, Iowa City, and Davenport.
Visit the full NVAR website at www.nvar.us for a complete ride schedule
This article is adapted from a news release I received this week from the Iowa Grand Motorcycle Rally, to be held July 25-28 at the Iowa Speedway in Newton. I've done a little editing, but even the full version did not include the full slate of activities that will take place at the rally. See the end of this article for links to the Rally website and supporting pages.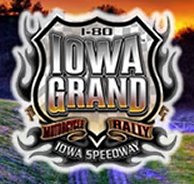 NEWTON, IA – The Iowa Grand Motorcycle Rally at the Iowa Speedway July 25 – 28th has announced headlining acts and the substantial support of both state and county wide officials.
Kicking off Wednesday night are Black Oak Arkansas and Head East, with Lynard Skynard tribute band Edge of Forever opening. Pyrotechnics '80s sensation Hairball lights up the rally on Thursday, and country star Joe Diffie and rock band Rev Theory make for a high octane Friday. Blue Oyster Cult and Eddie Money tip the scales of awesome nostalgia rock for Saturday. Comedian Gallagher was to perform but due to health reasons was forced to cancel his appearance and the rally production team wishes the legend a speedy recovery.
Daily doses of super charged Sturgis and Daytona bands include Jasmine Cain, Ryan Rolando and Farrell Webber Band. Celebrity meet and greets include FX Networks "Sons of Anarchy" stars Katey Sagal ("Gemma") and Charlie Hunnam ("Jax"),  along with The History Channel's "American Pickers" star, Danielle Colby Cushman. Hosted by Jay Allen, Iowa Grand events including tribute rides, bike rodeo, swap meet, sportbike track days, vintage and custom bike shows and much more can be found at iowagrandrally.com.
The significant planning and hard work of the Iowa Grand Motorcycle Rally team has been impressive to the community at large. Governor Terry Branstad expressed the state's support of the rally by signing new legislation which allows the sale of new and used motorcycles at events off dealer property."
Big Barn Harley-Davidson of Des Moines is the official Harley-Davidson dealership of the rally. Customers will be able to see "…new and used Harley-Davidson motorcycles, and take demo rides on new bikes through the rolling hills surrounding Newton," said Big Barn co-owner Dan Moeller.  Big Barn is also providing a 2012 Harley-Davidson motorcycle to be raffled off for charity.
The City of Newton is creating a weekly bike night called Thunder Nights during the summer months to support the Inaugural Iowa Grand Motorcycle Rally. "Our community is really looking forward to all the bikes and people coming to Newton for the first ever Iowa Grand Motorcycle Rally," said Newton Mayor Chaz Allen. "(And), several members of our community have banded together to create Thunder Nights in Newton. The big rally at the speedway in July and Thunder Nights throughout the summer will create a lot of excitement in Newton."
The City of Newton committee is also planning a welcome pig roast to all rally attendees which will be held in the city square on Thursday, July 26th.
Go to www.iowagrandrally.com and www.facebook.com/iowagrandmotorcyclerally for more information and to buy tickets on sale now! Early bird special pricing: $75 for 4-day pass includes free tent camping. Offer ends May 31st. Self-contained RV camping is an additional $50. Day passes are also available. Call 866-787-8946 for complete information.
The American Diabetes Association has decided not to promote Rip's BAD Ride Iowa in 2012, according to the event's Facebook page. Without promotion and support from ADA, this means the event will not be held in 2012. Event organizers noted that the Facebook page will remain open so participants can continue to enjoy the photos and videos that have been posted there, and to help promote any events in Iowa that benefit the ADA of Iowa. Rip's BAD Ride Iowa was held for four years beginning in 2008.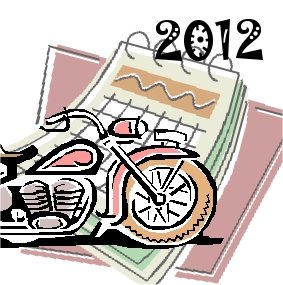 Can't believe we made it to mid-January before getting ANY measurable snow here in central Iowa! We've even had a couple of days in the upper 50's – more than nice enough to ride, but alas, I wasn't able to enjoy them. At least, not on the motorcycle. And, even though it's currently bitter-cold, the mild weather we've had up to this point has made the off-season infinitely more bearable.
Anyway, thought it was time to start working up the 2012 calendar of local, statewide, and a few national events. There are some missing from this list that I know are out there somewhere, but their websites haven't been  updated with 2012 dates yet. I'll be on the lookout for those and will add them later with a link back here.
Meanwhile, if you know of something in Des Moines, in Iowa, or in the mid-west, let me know in the comments!
Gathering on the Grounds Mid-Winter Bash – January 28, Des Moines IA
Capital City Custom Bike Show & Swap Meet – February 11-12, Des Moines IA
Daytona Bike Week – March 9-18, Daytona Beach FL
Indianola Bike Night – Third Friday of the month, April 20 thru September 21, Indianola IA
ABATE/CMA Blessing of the Bikes – April date TBA
Gathering on the Grounds – Tuesdays throughout the summer (start date TBA)
Mississippi River Motorcycle Rally – June 13-16, Davenport IA
Iowa State HOG Rally – June 14-16, Des Moines IA
J&P Cycles Open House – June 23-24, Anamosa IA
ABATE Iowa State Freedom Rally – July 5-7, Algona IA
Sturgis Rally – August 6-12, Sturgis SD
Iowa State Fair Motorcycle Day – August 19, Des Moines IA
Warriors Across Iowa Benefit Rally – August 25, Oskaloosa IA
Bikes Blues & BBQ – September 26-29, Fayetteville AR
Biketoberfest – October 18-21, Daytona Beach SD