2014 Des Moines, Iowa and National bike events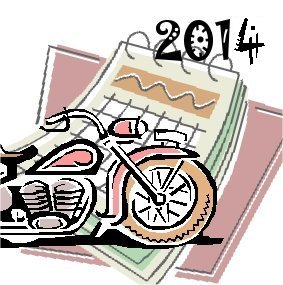 UPDATE MAY 27 – Added an event for June 22nd.
UPDATE APRIL 9 – Updated again by adding a crap-ton more events. I think this makes it my biggest calendar EVER. But, there's likely more still missing. So, if you have an Iowa-focused motorcycle event, leave the info in the comments.
UPDATE APRIL 5 – I've just taken another pass through this list and updated with most of the missing dates. Again, if you know of something that should be added (either a large-scale national event or an Iowa-based event), please add it in the comments and I'll list it in the main post. Thanks!
Happy New Year! Hope your January is off to a great start; I am still hibernating but around here we are approaching the date of the Motorcycle Swap Meet at the state fairgrounds held each year in February. I always consider that to be a bit of a milestone as we progress through Winter, so I am looking forward to it whether we attend or not.
We have had quite a deep-freeze going on around here weather-wise – something called a polar vortex – but there was one day in there where we actually had a high temperature around 45, and there were bikes out! Kitten, of course, is hunkered down behind the snow blower so there's no leaving the driveway for me for quite awhile yet. But still – 45 felt positively balmy after the high temps just the week before which were below zero.
Anyhoo, while it's still January I thought I would post my annual list of Des Moines, central Iowa, and random US biker events and rallies. This is by no means an exhaustive list (but it IS exhausting putting it together! LOL), and some of the dates are still TBA so will be added later. If you know of something happening in Des Moines or its metro area, the state of Iowa, or the Midwest region, please feel free to share it in the comments.
Time to THINK SPRING!!
Capital City Custom Bike Show & Swap Meet – February 8-9, Des Moines IA
Daytona Bike Week – March 7-16, Daytona Beach FL
Blessing of the Bikes – April 12 at Route 65 Harley Davidson, Indianola
Kelley Bike Night – Thursdays 6-10 pm beginning April 17 at Crossroads Tavern in Kelley, IA
Indianola Bike Night – Third Friday of the month, April 18 thru September 19, Indianola IA
Winterset Bike Night – Third Saturday of the month, beginning April 19 in Winterset, IA
Blessing of the Bikes & ABATE Dist. 4 Chili Feed – April 19, 11 am at Big Barn HD in Des Moines
Iowa Dept. of Transportation Motorcycle Safety Forum – April 25 at Hy-Vee Hall, the Iowa Events Center in Des Moines
Blessing of the Bikes – April 26 at Grotto of the Redemption, West Bend, IA
F & J Bike Blessing – April 26 at the American Legion in Marshalltown, Iowa
Gathering on the Grounds – Second Thursday of the month, April – July at the State Fairgrounds in Des Moines (to be confirmed)
Knoxville Bike Night – First Friday of the Month beginning May 2 through September
Struthers Brothers Dinner Rides – (So far) April 12, 26; May 10, 24, leaving from Struthers Brothers in Des Moines, 4:3o pm on dates shown.
Hartford Bike Night – Second Friday of the Month, dates TBA
15th Annual Motorcycle & Trike Display – April 25-27 at Southpark Mall, Spencer IA (712-262-8700)
Avenue of the Saints Motorcycles/Classic Cars (formerly St. Charles Bike Night)  – May 11, June 15, July 13, and August 10, 1-4 pm, St. Charles, IA
International Female Ride Day – Saturday, May 3, worldwide!
Blessing of the Bikes – Noon on Sunday May 4, Prairie Ridge Church in Ankeny, IA
Thunder Nites in Newton – Second Friday of the month, May 9 thru September 12
Vintage TorqueFest – May 2-4 in Dubuque, Iowa
Hot Rods & Harleys Cruise Night – 2nd Thursday each month, May-September, starting May 8 at the Chrome Horse Saloon, Cedar Rapids, IA
Thunder Nites Bike Night – Second Friday each month May-September, starting May 9, on the square in Newton, IA
AMVET Riders Motorcycle Awareness Ride – May 10 at the American Legion in Marion, IA
Ride for Peanut – May 17 in Cedar Rapids, IA
"Remember When" Poker Run – May 17 in Davenport, IA
KIA Memorial Run – May 25 in Davenport, IA
National Motorcycle Museum Vintage Rally – June 7-8 at the National Motorcycle Museum in Anamosa, IA
Rally on the River – June 11-14 in Davenport IA
US Route 6 Iowa River to River Cruise – June 12-14 starting in Council Bluffs and ending at Rally on the River in Davenport (link above)
Bell Tower Festival Poker Run & Bike Show – June 14 on W. State Street in Jefferson, IA
Relay for Life 3rd Annual Poker Run – June 14 starting in Cedar Rapids, IA
Ride Your Motorcycle to Work Day 2014 – June 16 EVERYWHERE!!
Awesome Biker Nights – June 19-21 in Sioux City, IA
3rd Annual Blackhawk Lake Trike-In – June 20-22 in Blackhawk Lake, IA
A Ride to Remember with Coach Rhoads – June 22 in Ames, IA
J&P Cycles Open House – June 27-29, Anamosa IA
Ride it Out for Amber- Saracoma Cancer Benefit – June 28 in Polk City, IA
ABATE Iowa State Freedom Rally – July 3-5, Algona IA
ASMI River Road Fundraiser – July 18-20 in Dubuque, IA
First Annual Ride 4 Time poker run – July 19, Baxter IA
Patriot Ride – July 19, Quasqueton, IA
Road Warrior Rally – July 26, Dubuque, IA
Across the Border Motorcycle Raid and Rally – July 31-August 2 in Bedford, IA
2nd Annual Ride to Live 4 Gibbie Poker Run – August 2 in Boone, IA
Sturgis Rally – August 4-10, Sturgis SD
AMVET Riders 2nd Annual Bug Run – August 9 in Cedar Rapids, IA
Iowa State Fair Motorcycle Day – August 17, Des Moines IA (to be confirmed)
Iowa State BTW Rally and Iowa heartland Trikers Trike-In – August 22-24 in Kellogg & Grinnell, IA
Chief Blackhawk 43rd Davenport Fall International Meet – August 28-30 in Davenport, IA
Davis Motorcycle Rally – September 5-7 in New Hamptom, IA
Sydney's Wish 3rd Annual Benefit Poker Run – September 6, Des Moines IA
Bikes Blues & BBQ – September 24-27, Fayetteville AR
Biketoberfest – October 16-19, 2014 in Daytona Beach SD